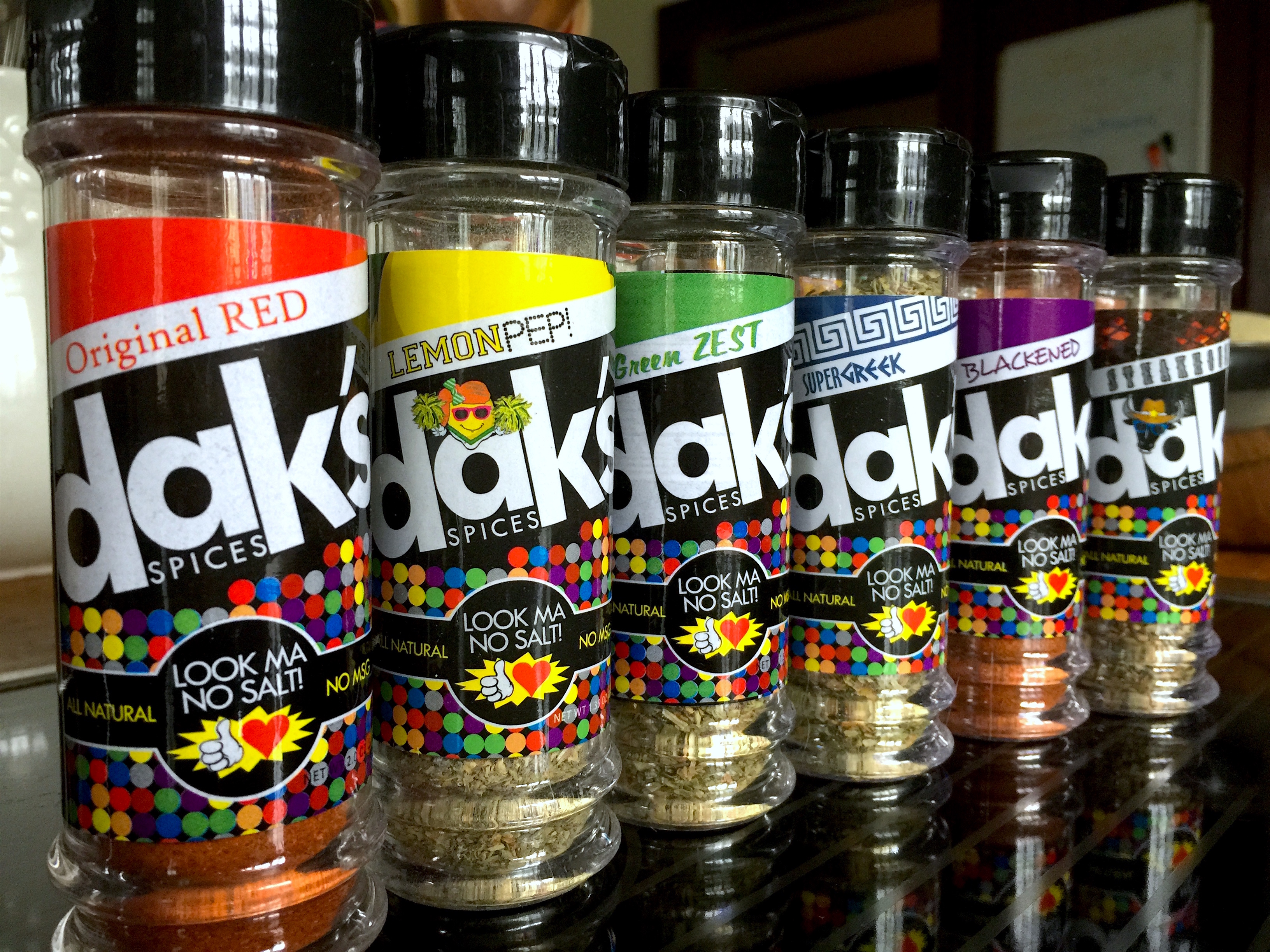 FRIENDS!  Have I got a TREAT for you!
A kind reader recently wrote to tell me about a line of seasonings he'd discovered called DAK'S SPICES.  Dak's is an exclusively salt-free brand created by the husband-wife team of Drew and Karen Clark, who pride themselves on the incredible level of flavor contained in each and every one of their 15 seasoning blends.
Whether you prefer an herby blend, something garlicky, citrusy, whatever – once you ditch the salt, you've got to find something to fill that chasmic void.  For cooking, table-shaking, and more, you just can't beat the taste and convenience of a great salt-free seasoning.
I never miss an opportunity to sample a new salt-free seasoning.  And neither should you!  I'm here to share the news not only in readable but in edible form that Dak's is delicious.
Karen and Drew kindly sent a 6-pack of their most popular blends.  I sampled three and was blown away by the different flavors.  Original Red, the seasoning that started it all, distinguishes itself not as a standard herb-based blend, but as a deliciously spicy ground super-rub!  Sprinkle it liberally as you would salt out of a shaker OR use it as a dry seasoning.  Either way, it's absolutely spectacular.  Bright red and paprika-spiked, it works wonderfully as a stand-in for salt-free chili seasoning and more.  Green Zest has a great garlic kick and delightful mix of herbs, making it a perfect choice as an all-purpose salt-free blend.  And as its name suggests, Super Greek is a go-to blend for all things Mediterranean; an herb mixture with onion, garlic, and a high-note of mint.
BUT WHAT ABOUT YOU???  I know you want to taste-drive these new seasonings too!  And I don't blame you.  So I have three of Dak's top-selling, absolutely amazing, salt-free seasoning blends to give away:
Lemon Pep, Blackened, and Steakhouse !
If you're someone who loves meat, these are the blends for you!  From fish to fowl, pork, beef, even eggs, these three salt-free blends will impress with their taste and quality.  Don't eat meat?  No problem!  From tofu to tempeh, bean-based chilis, lentil tacos or loaves, these seasonings make the meal.  Herb and lemon-based Lemon Pep is a great choice to flavor everything from seafood to salads, roasted veggies, herb butter or dipping oils.  It makes a wonderful stand-in for salt and can be kept on the table as all-purpose salt-free seasoning.  Dak's Blackened is a go-to rub for any meat or vegetarian protein.  Its spicy flavor will enhance gumbos, soups, sauces, and more.  And Steakhouse is as its name suggests a meat-maker.  A top-notch blend of herbs with whole mustard seeds that absolutely POP with irresistible flavor.  Add it to ground beef for the most flavorful hamburgers imaginable or rub into chicken or pork before roasting.  Pure deliciousness!
Giving up salt is like losing a loved one.  You'll never replace its taste, but you can find a tasty new partner to fill that void and make your healthy journey HAPPY!  Dak's delicious seasonings do more than just fill the salt-void, they encourage creativity in the kitchen and make you WANT to cook.  They make food taste GREAT!  What could be better than that?
Maybe… 3 new salt-free seasonings, for FREE??!!  YES!
If you'd like to try Dak's Lemon Pep, Blackened, and Steakhouse for yourself, simply leave a comment below letting me know!
This free giveaway is open to all Daily Dish readers, regardless of physical location, and will be open now through Sunday, April 17, 2016.  The lucky winner will be chosen at random and announced here and on Facebook first thing Monday morning.  GOOD LUCK!