HAPPY HALLOWEEN, EVERYONE! Have I got a treat for you !!!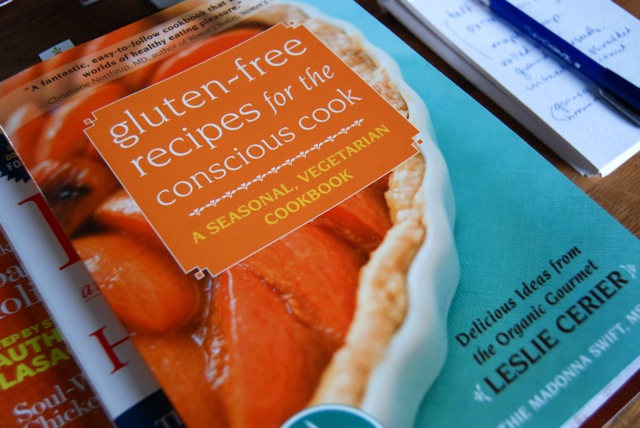 Do you have or know someone who suffers from a gluten allergy?
As someone on a strict salt-free diet, I am intimately familiar with the concept of "living without."  So when Leslie Cerier, the Organic Gourmet, asked whether I'd be interested in reviewing her latest cookbook, Gluten-Free Recipes for the Conscious Cook, I agreed without hesitation. I'm so glad I did!
Those yummy corn muffins above are further proof that making health a priority isn't a sacrifice when you're well fed. Sweet and moist, with a crumbly corn chew, they're just like "regular" corn muffins – but better! And they're only one of many amazing recipes from Leslie's book.
Gluten-Free Recipes for the Conscious Cook focuses on seasonal, vegetarian fare, offering not only variations on traditional favorites but some fabulously creative combinations you'll be dying to try. From Candied Yams with Pecans, to Nori Rolls with Gingered Tofu, to Chocolate Mousse Pie in a Hazelnut Crust, you'll have dozens of ideas for everyday meals as well as the upcoming holidays. And beyond recipes, Leslie offers a course in gluten-free grains, devoting two whole chapters to their description and preparation. I've been cooking for years and still managed to learn a thing or two. Thank you, Leslie!
I'm thrilled to offer a free copy of Gluten-Free Recipes for the Conscious Cook to one lucky winner!
BUT THERE'S MORE. Because with any new cookbook, there's often a need for new products. That's why I'm offering not only Leslie's book, but a prize pack of gluten-free staples – valued at $50!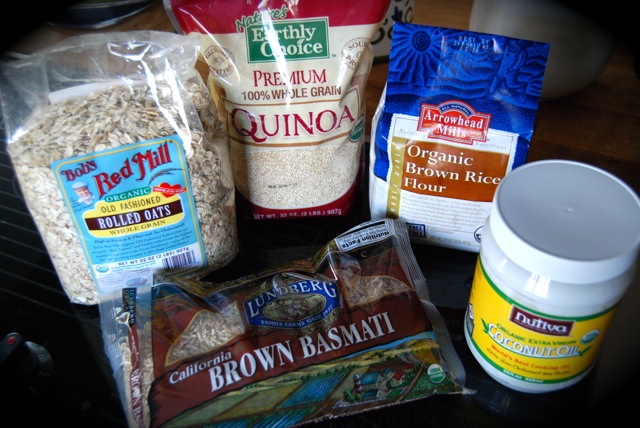 Two-pound packages of: Nature's Earthly Choice Premium Organic Quinoa. Arrowhead Mills Organic Brown Rice Flour. Lundberg Organic Brown Basmati Rice. And in addition, a jumbo 29-oz. jar of Organic Extra-Virgin Coconut Oil from Nutiva.
To enter the giveaway, simply leave a comment below letting me know you'd like to win.
Entries will be accepted now through through Friday, November 4, 2011 and the lucky winner will be selected and announced here on Saturday, November 5th.
This giveaway is open to everyone, no residency restrictions. Best of luck!