Hey Readers! If you've been craving NEW recipes from me, THE DAILY DISH is NOW ON PATREON!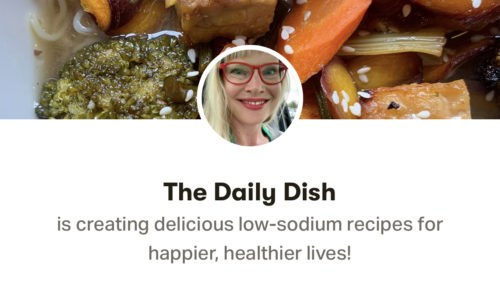 Patreon is a way for creators like me to connect directly with those who value them. With your support, I can continue creating and sharing amazing recipes long into the future, and keep this website FREE for everyone.
Daily Dish Patrons will enjoy a brand new recipe each week along with nutrition information. Choose a level of monthly support and gain access to all new content! WIN.
Becoming a Daily Dish Patron is simple and secure. Just click here, choose the amount you'd like to pledge per month, and confirm. You can cancel or adjust your pledge at any time.
If you value this website, please consider supporting my work as a Daily Dish Patron. Your support truly means so much. Thanks for your kind consideration, Christy
BRAND NEW RECIPE INDEX TO DATE – EXCLUSIVELY ON PATREON:
Cinnamon Apple Bread
Southwestern Hoppin' John Stew
Mushroom Swiss Stuffed Delicata Squash
Fire Cider Vinaigrette
Swedish Glogg
Pantry Pasta Sauce
Chunky Tomato, Potato & Kale Soup
Orange Ginger Muffins with Chewy Cranberries
Roasted Butternut Squash Soup
Peanut Butter Swirl Brownies
Slow Cooker Apple Tempeh Chili
Roasted Maple-Sesame Salmon & Green Beans
Coconut Truffles
Tempeh (or Chicken!) Tikka Masala
Cauliflower, Tomato, Spinach & Chickpea Curry
Homemade Low-LOW-Sodium Ketchup!
Homemade Baked Beans in an INSTANT!
Pumpkin Spice Oatmeal
Pumpkin Cupcakes with Cinnamon Frosting
Slow Cooker Cabbage and Winter Veggie Stew
Shhhh… Secret Chocolate Bread
Lentils with Garlic, Fennel, and Basil
Roasted Winter Squash
Golden Turmeric Granola
Slow Cooker Yellow Split Pea Soup
Carrot Bread
Fried Sweet Plantains
Sinfully Delicious Low-Sodium Deviled Eggs
Cinco de Mayo Salad
Triple Lemon Quick Bread
Mushroom, Carrot, and Kale Coconut Curry
Asian Cucumber Salad
Homemade Energy Bars