My name is Christy, but you can call me Dishy. I'm a blogger, cookbook author, roller skater, chicken tender, wife, momma, and much more.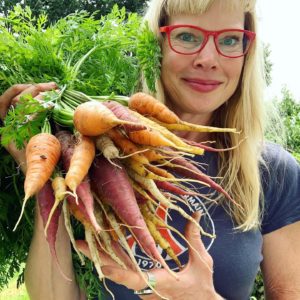 Twenty years ago, I was diagnosed with an inner ear disorder called Ménière's disease. My only course of treatment? GIVE UP SALT. I've been creating low sodium recipes for the past 2 decades and launched this website in 2007 with the hope of helping myself and others enjoy happier, healthier lives.
The Daily Dish is my salt free baby. Here you'll find hundreds of delicious low sodium dishes and more – for free! – with zero advertisements. I'm sharing new recipes on Patreon and welcome your support!
Please remember, a diagnosis may be a part of your life, but you are not your diagnosis. 
Wishing you the best! ❤️ Christy Ellingsworth