A whole grain bread with a lovely taste and aroma. More substantial than a standard white – thanks to the oats and wheat flour, but never heavy. With a soft open crumb and golden crust, it's perfect for sandwiches, toast – or even just eating plain.
Yields one king-size loaf or two regular size (26 servings)
SODIUM CONTENT: 9 mg per slice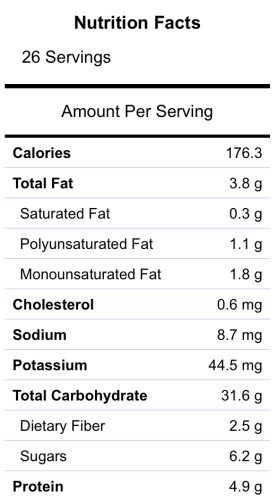 INGREDIENTS
4 1/2 t. instant dry yeast
1 1/2 c. warm milk
1 1/2 c. warm water
1/2 c. honey
1/3 c. vegetable oil
2 c. old fashioned (not instant) rolled oats
2 1/2 c. whole wheat flour
3 1/2-4 c. all-purpose flour
DIRECTIONS
Measure the yeast into a large mixing bowl. Add the warm milk and water and stir. Add the honey and oil and stir well to combine. Add the oats and mix, then add in the whole wheat flour, a cup or so at a time, stirring well to combine. Gradually stir in the all-purpose flour, a half cup at a time, mixing until a dough begins to form. Once the dough is pretty solid, turn out onto a lightly floured surface and gather together, adding just enough flour to keep the dough from sticking. Begin kneading, adding a little flour as necessary, and knead until the dough is smooth and elastic, about 8 minutes. Lightly oil a clean mixing bowl and place dough inside. Cover well (I like to use clear plastic wrap secured at the top with a rubber band) and place in a warm spot to rise until doubled in size, about 1 1/2 hours.
Once dough has doubled, removed cover and punch down. Turn out onto a lightly floured surface and either shape into a single loaf or cut into two and shape into individual loaves. Lightly butter or oil one (or two) loaf pan(s) and gently place loaf/ves inside. Cover loosely with some lightly oiled plastic wrap and leave to rise until doubled in size, about 1 hour.
Once risen, preheat oven to 375 degrees. Place the pan/s on the middle rack in the oven and bake until golden brown, about 40 minutes. Remove pan/s from oven and place on wire rack to cool for a minute, then carefully remove bread from pan/s and place on wire rack to cool. Allow bread to cool at least 5 minutes before cutting and serving.