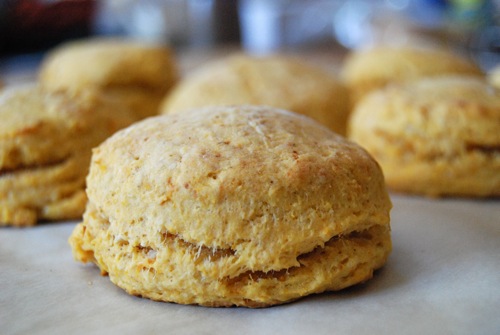 Bet you didn't know there's such a thing as a "biscuit loving gene," but it's true!  My daughters and I have inherited the BLG (many thanks to my southern momma) and are always on the lookout for our favorite flaky bread.  Unfortunately, traditional biscuits are often way too high in sodium for me.  Solution?  Worry free biscuits with a sweet potato twist. Baking biscuits from scratch may seem hard, but don't be fooled. As part of this week's Cooking with Kids! my older daughter made these herself, start to finish and she's only 10!  OKAY, okay – Almost 11!  (sheesh) My older daughter loves food, mostly eating it.  But she sure had fun getting her hands dirty and even had a creative use for the leftover dough.  As someone who'd previously made little for herself besides a bowl of cereal, it's safe to say this recipe is pretty foolproof. And if my (nearly) 11 yr old can do it, so can you! Adapted from Food Network Kitchens Favorite Recipes.
Yields 8 biscuits.
SODIUM CONTENT:  15 mg per biscuit
INGREDIENTS:
1 medium sweet potato (enough to yield 3/4 c. mashed)
1 1/2 c. flour
1 T. Featherweight sodium free baking powder
1 T. brown sugar, packed
1/4 t. ground cinnamon
1/8 t. ground allspice
5 T. unsalted butter
1/2 c. milk
DIRECTIONS:
Preheat oven to 425 degrees. Get out a baking sheet, line with 2 sheets of parchment and set aside.
Peel the sweet potato and cut into small chunks.
Place chunks into a small saucepan, add enough water to cover, then bring to a boil over high heat.
Once boiling rapidly, lower heat and boil until sweet potato is soft, roughly 15 minutes.  Remove pan from heat, drain, then mash the sweet potato well.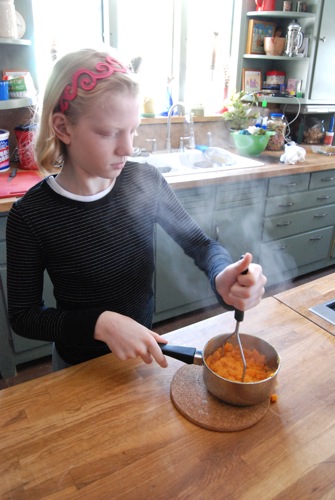 Measure out 3/4 c. and set aside.
Measure the flour, baking powder, brown sugar, cinnamon and allspice into a mixing bowl and whisk together.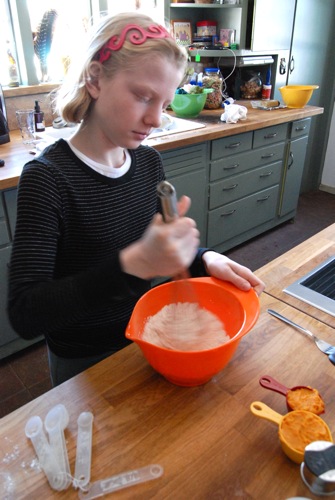 Add the butter and cut into the dry mixture using your (freshly washed) fingertips.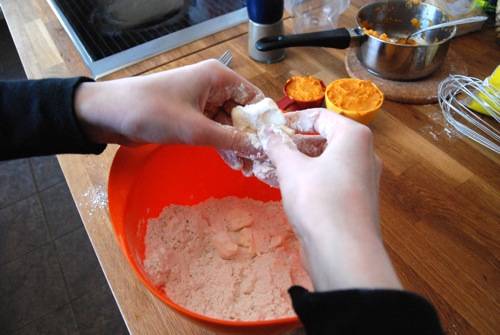 Process the dough until the butter is broken down to roughly pea sized pieces.  Add the mashed sweet potato and milk and mix to form a moist dough.
Turn out on a lightly floured surface and pat dough into a rectangle about 1/2-inch thick.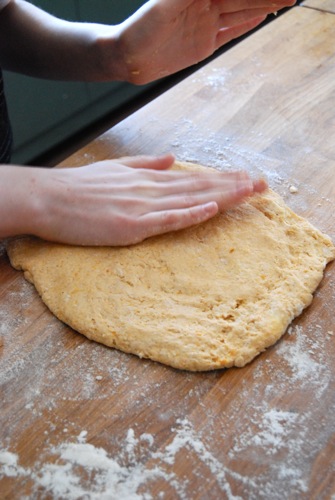 Fold dough into thirds, as if folding a business letter, then pat lightly into a (roughly) 8 x 5-inch rectangle, about 3/4-inch thick.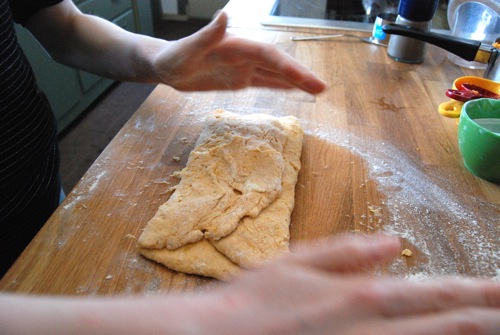 Using a 2-3 inch round biscuit cutter, cut out 6 biscuits, then gently transfer to baking sheet.
Pat the dough scraps together to form another small rectangle, cut out 2 more biscuits.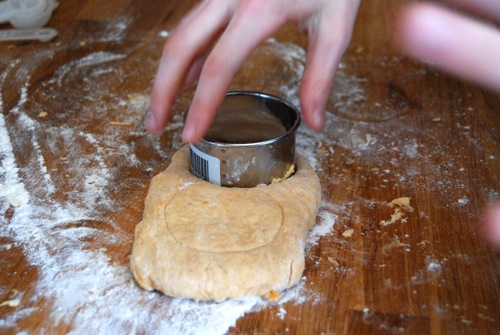 Transfer biscuits to the baking sheet.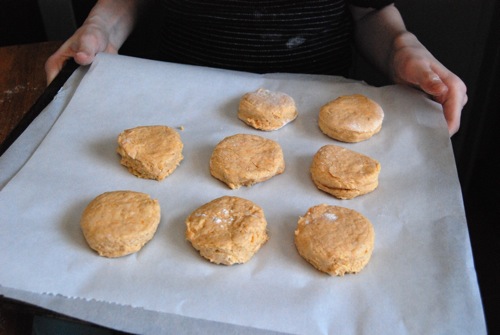 Place baking sheet on middle rack in oven and bake 12 minutes, until lightly browned.
Remove from oven and place on a wire rack to cool.  Cool briefly before serving.