A good way to start a busy weekend. A heart healthy breakfast muffin with some heft. Dense and moist, sweet – but not overly so, with just a touch of spice.
Yields 12 muffins.
SODIUM CONTENT: 33 mg per muffin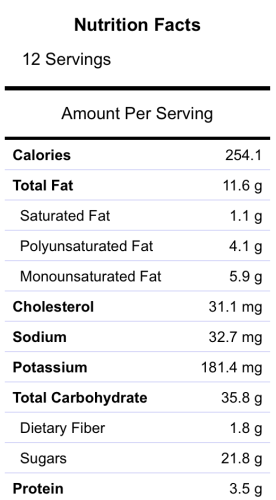 INGREDIENTS
1/2 c. vegetable oil
1 c. sugar
2 eggs
1 t. pure vanilla extract
1 t. ground cinnamon
1/8 t. ground allspice
1/8 t. ground nutmeg
2 1/2 t. Ener-G sodium-free baking soda (available online at healthyheartmarket.com)
1 1/2 c. all-purpose flour
2 T. milk
3 c. shredded carrot (about 4-5 carrots, peeled)
1/2 c. seedless raisins
1/4 c. chopped walnuts
DIRECTIONS
Preheat oven to 375 degrees. Grease or line a 12-muffin tin with paper liners; set aside.
In a large mixing bowl, combine oil and sugar. Beat in eggs, then add vanilla and spices and stir well. Mix in baking soda and flour, then add milk and stir to combine. Lastly, add carrots, raisins and walnuts and mix well. Batter will be thick.
Pour batter into the muffin cups, dividing evenly and filling almost to the top. Place muffin tin onto middle rack in oven and bake about 35 minutes, until tester inserted in center of muffin comes clean. Remove pan from oven. Let muffins rest in pan for a minute before removing to a wire rack to cool fully.