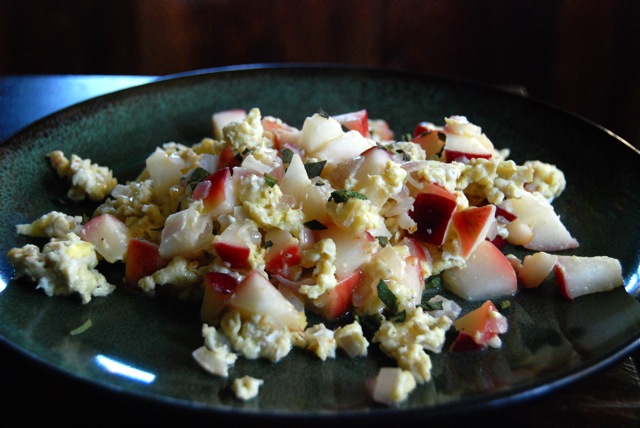 APPLE WEEK Brekkie Time! I threw this recipe together yesterday and wow.. SO GOOD. The combination of tastes and textures seems tailored made for fall. The warmth and softness of the eggs, the melty tang of the Swiss, the play of apple off shallot and the sage – don't forget the sage! That woodsy scent draws everything together. Even though it dropped below freezing last night, our sage plant seems to be holding its own. Thank goodness. With all those soon-to-be-laid fresh eggs, I'll be enjoying this often.
Yields 2 servings.
SODIUM CONTENT: 136 mg per serving
INGREDIENTS:
2 eggs
2 T. low-fat milk
1 T. unsalted butter
1 medium apple (your choice), cored and chopped
1 shallot, chopped
1/4 c. shredded Swiss cheese
1 t. chopped fresh sage (or 1/2 t. dried sage)
freshly ground black pepper to taste
DIRECTIONS:
Break eggs into a small bowl, add the milk and beat well; set aside.
Melt butter in a skillet over medium heat. As soon as butter has melted, add the chopped apple & shallot and cook, stirring, 2-3 minutes until soft but not brown.
Add the beaten egg.
Let set roughly 30 seconds, then cook, stirring, 30 seconds to a minute more, until egg is almost cooked.
Add Swiss cheese and stir.
Remove from heat and serve immediately, sprinkled with sage and freshly ground black pepper to taste.