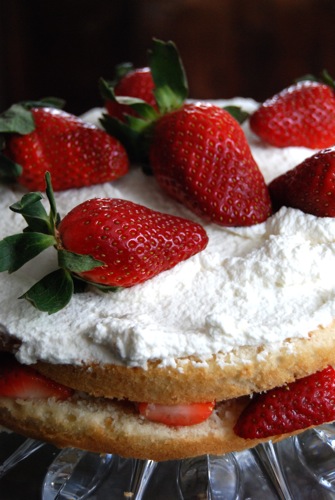 I wanted this week's Cooking with Kids! to end with something special. Not only to leave on a high note, but because my daughters have done such a fabulous job I wanted to reward them. And as the ladies love strawberries AND cake AND whipped cream, what combo could be more fitting?!  This recipe yields a salt free / super low sodium showpiece for a minimum of fuss.  The open crumbed vanilla cake sops up the juicy strawberries like a sponge, and topped with the rich fresh cream, Oooh la la! It's an A+ eating experience.  Please note this cake is best served shortly after assembling.  The whipped cream and strawberries have a tendency to weep and although still delicious, you likely won't want a soggy mess on your hands.  If baking for a party or other event, try to hold off assembly for maximum WOW. Recipe adapted from Food Network Kitchens Favorite Recipes.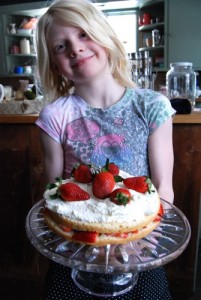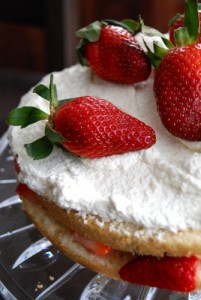 Yields 8 servings.
SODIUM CONTENT:  30 mg per serving
INGREDIENTS:
Batter:
1 c. flour
3/4 c. sugar
1 t. Featherweight sodium free baking powder
4 T. (1/2 stick) unsalted butter, melted
1 egg, beaten
1/2 c. milk
2 t. pure vanilla extract
Filling & Topping:
1 lb. fresh strawberries
1 T. sugar
1 c. heavy cream
1 T. powdered sugar
1/2 t. pure vanilla extract
DIRECTIONS:
Preheat the oven to 375 degrees. Line an 8-inch round baking pan with parchment, then grease & flour the paper/pan. Set aside.
Measure the flour, sugar and baking powder into a mixing bowl and whisk well to combine. Add the melted butter, beaten egg, milk and vanilla and stir just until smooth. Pour batter into the prepared pan and smooth evenly.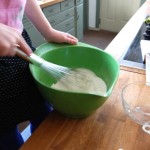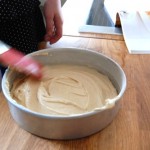 Place pan on middle rack in oven and bake 25 minutes. Remove pan from oven and set on a wire rack to cool 10 minutes. After pan has cooled, invert gently onto the wire rack and allow cake to cool fully on rack.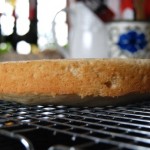 Wash the strawberries well and pat dry. Select several of the best looking strawberries to decorate the top. Leave them whole and set aside. Hull and slice the remaining strawberries and place them in a mixing bowl.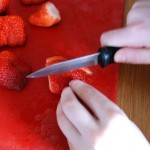 Add the tablespoon sugar and toss well to coat. Set aside.
Whip the heavy cream with the powdered sugar and vanilla to desired stiffness. Chill until ready to use.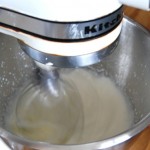 Once the cake has fully cooled, carefully slice it into two equal layers by running a sharp knife through the middle.
To assemble the cake, set one layer down on a plate. Fill the middle with the sliced strawberries (and a little cream if desired), being certain to get all of the juice out (yummy).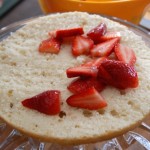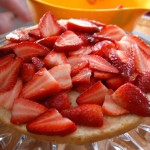 Top with the second layer of cake. Spread the whipped cream over the top and decorate with choice strawberries.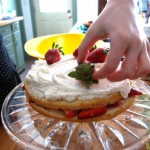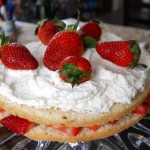 Serve immediately. ENJOY!!