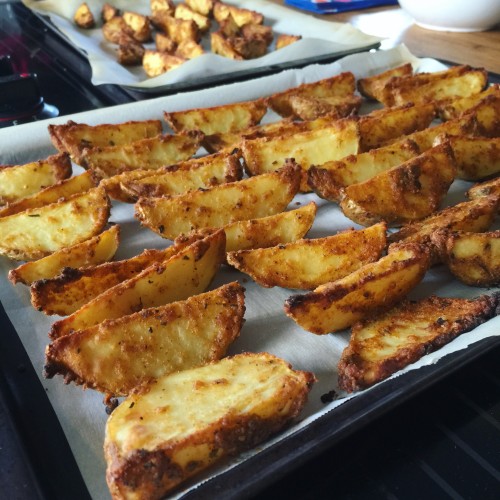 Hello Daily Dish readers!  I hope you're all doing very well.  Spring has sprung here in Maine and it's been 6 long months since I last posted; high time for an update.
A reader emailed today asking about the recipe above; something I'd posted a while ago on Instagram.  (Unlike this site, the "daily" in my DailyDishy Instagram account isn't a misnomer!)  ANYWAY.  The photo above is a recipe I developed for a healthier low-sodium version of KFC seasoned potato wedges.  They are super YUMMY.  I'd like to share the recipe, as well as others I've been working on over the winter, but I have a decision to make first.
My husband and I have a good programmer friend who has developed a recipe app.  It seems like a great fit for this site and my recipes, but we are trying to decide how to proceed.  Although this website is completely FREE and will remain so, my husband and friend are urging me to offer new recipes through the app for a nominal fee.
The options are as follows:
1) Load all of my recipes into the app, including those on this site, as well as new recipes.
2) Make the app a "new recipe" database only.
3) Do nothing!  No app.  Keep this website FREE as always.  No new recipe updates.
Since it will take some doing to undertake this app-venture (pun intended!) I'm looking for as much feedback as possible from YOU!
If you like my recipes and use this website, would you be willing to pay a nominal fee for new work?  My friend has spent a great deal of effort building this app and I would have to pay him.  This is not something I've ever had to do before and I take this seriously.  If people are willing to pay me, I am willing to invest the time, and in turn pay him. 🙂
My thought right now is to start the app with new recipes only and offer a new release quarterly (4 times per year).  The 4 releases would coincide with the seasons and would include recipes geared towards seasonal produce, holidays, and that sort of thing.  I'm thinking ~ 25 new recipes per season or ~ 100 new recipes per year.  The nominal fee for periodic releases would be $5 or less.
So that's my app-proposal!  What do you think??
Please feel free to offer feedback in a comment below.  I would like to hear from as many people as possible, so even if you don't normally comment online, please consider doing so now.  It would mean a lot to me and to my work.
MANY THANKS!!
Best wishes to you all, Christy