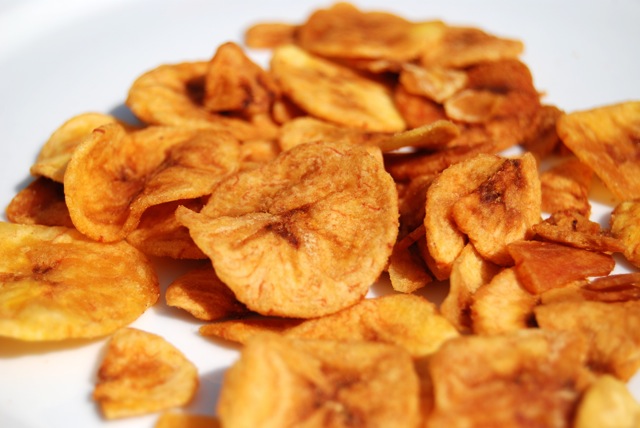 Those chips look pretty honking good, don't they? Let me tell you. THEY ARE. Yesterday I received a package from friend & reader, Julie A. from Florida. Inside were three bags of gold, otherwise known as Chifles Sweet Maduro Plantain Chips, one of the tastiest salt-free snacks ever. She'd written to tell me about Chifles and ask whether or not they were sold here in Maine (sadly, no). So as a fellow foodie & all-around amazing gal, she sent me some tout de suite! I am not ashamed to tell you (though perhaps I should be) that I ate an ENTIRE BAG BY MYSELF LAST NIGHT. On the plus side, I was watching PBS.. so that evens things out, right? RIGHT!
So what do they taste like?! Unlike traditional plantain chips which remind me more of potato chips, these Maduros have an irresistible sweetness. Subtle at first, the flavor rises to the forefront with each new bite. They remind me of dried banana chips, but much less heavy, without the greasy feel or cloying sweetness. And they're ALL NATURAL. No salt, no sugar, just tree-ripened plantain and vegetable oil. As it says on the bag, "We hope you will enjoy this tasty, nutritious treat. There is nothing else quite like it." Indeed.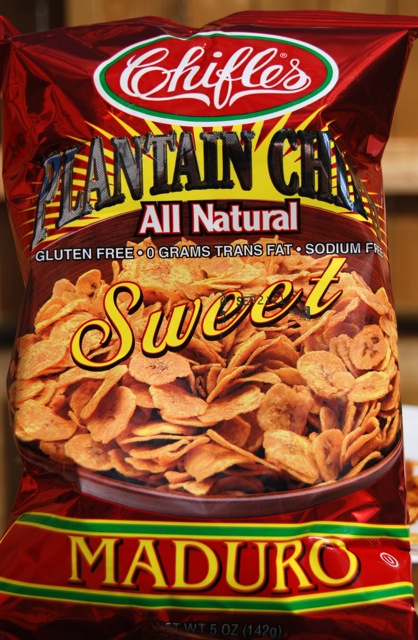 In addition to eating them out of hand, Julie suggests crushing them to make sodium-free crumbs for breading chicken, fish and more. They'd also be an amazing topping on everything from mashed sweet potatoes to ice cream or yogurt.  Coarsely chopped add them to granola, or crushed super finely, use them as a substitute for flour in breakfast treats like pancakes or muffins, as well as desserts.  Oooooh..!! The possibilities seem endless.
Chifles Sweet Maduro Plantain Chips are currently sold in a handful of southern states. Live elsewhere?  No fear!  All of Chifles Chips can be ordered online. Or contact Chifles directly to request a store near you!