Trader Joe's has done it again!
I've been making tacos a lot lately and have been going through mucho taco shells. During my latest trip to Trader Joe's I discovered they sell taco shells for a mere $1.99 per package!! They're everything you want in a taco shell – aka, pure deliciousness – PLUS they're sodium free, gluten free, vegan, kosher and organic!!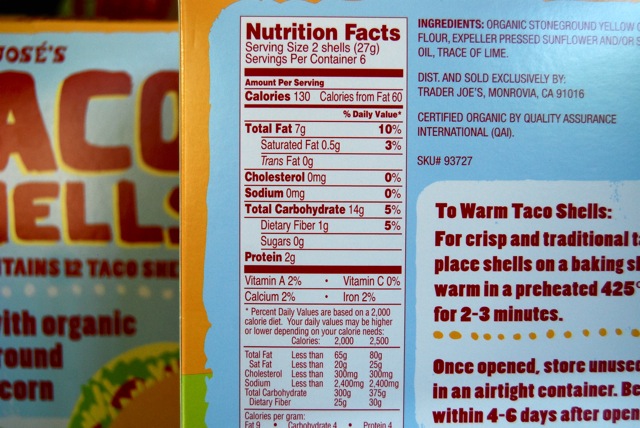 And don't forget the SALSA!
Trader Joe's Fire Roasted Tomato Salsa contains a mere 30 mg sodium per serving and is a perfect, all-around salsa. Great for dipping and adding to recipes, full of flavor (with NO ADDED SALT!) and mild enough for everyone.
Like spice? Try Trader Jose's Chipotle Salsa. Fiery and fabulous, with only 40 mg sodium per serving. And did I mention they also sell organic unsalted tortilla chips? Oh yesss.
I'm not a cheapskate, but 4 people + 1 income = Mandatory Budgeting. I walked out of Trader Joe's with tortilla chips, two different jars of salsa, and a box a taco shells for under 10 bucks. YOU HEARD ME. LESS THAN TEN BUCKS. All low sodium, all delicious, and ALL MINE. Olé, Trader Jose. Olé!