I was shopping at BJs last month when I spied something new: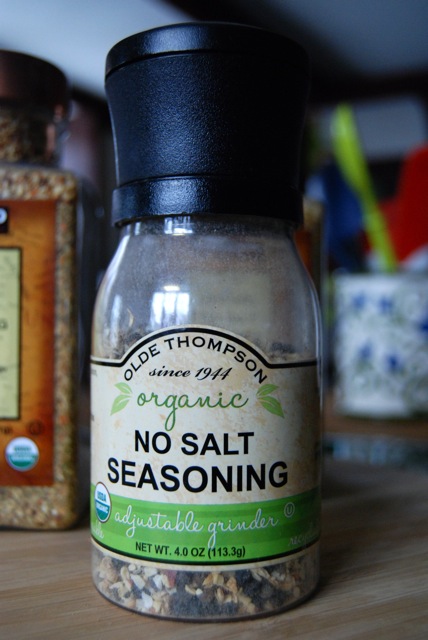 Olde Thompson Organic No Salt Seasoning. Olde Thompson is renowned for its quality salt and pepper grinders. You've likely used one and may very well own one at home.  Olde Thompson also makes spice racks and sells salt, pepper and other seasonings.  All top notch.  So when I saw their new – and organic! – salt-free seasoning above, all I could think was GREATNESS!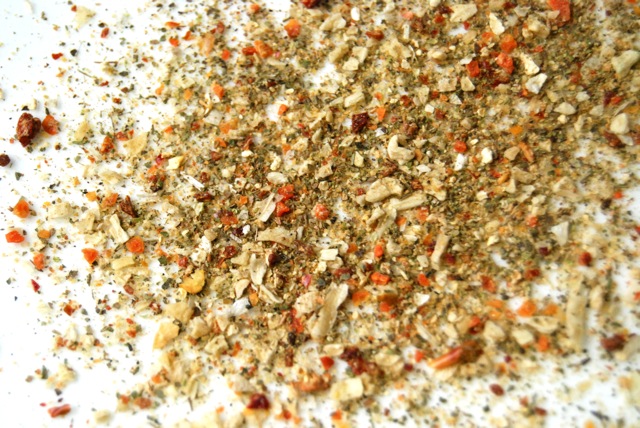 The colorful blend is a mix of 21 organic ingredients, including onion, garlic, carrot, black pepper, red bell pepper, tomato, and orange peel.  The list reads like a Who's Who of the herb world.
I've been using it liberally for weeks now and I've yet to find something it doesn't improve.  Put simply: Olde Thompson organic no-salt seasoning brings out the best in food.  We keep it on the table alongside our pepper grinder.  My daughters LOVE it.  I should have guessed they'd take to the nifty contraption, but it's the fabulous flavor with zero salt that's sold us all.
Low-sodium dieters know.  Salt free seasoning MATTERS.  But not all blends are created equal.  As much as my husband & I love spice, our daughters don't.  And from experience I know that some blends are more of an acquired taste.  Olde Thompson organic no-salt seasoning has a superb combination of flavors. It melds with food, perking it up almost magically without overpowering.  Because it's salt-free, you can pour on as much or as little as you like.  All those foods that fall flat and long for a salty "boost" taste even better with Olde Thompson!   We've made pizza crust with it (sublime!), sprinkled it on popcorn (BOOYAH!)  My picky older daughter – who never cared for mashed potatoes, now begs for them!  I add it to soups and pasta and it brings everything together, the same way salt used to.  If you think that I love this seasoning, you are RIGHT!  The fact that it's organic only makes me love it more.
I contacted Olde Thompson to ask whether they'd like to be featured on The Daily Dish.  I am THRILLED they said yes.  Because now I'm able to share this discovery in a truly tangible way.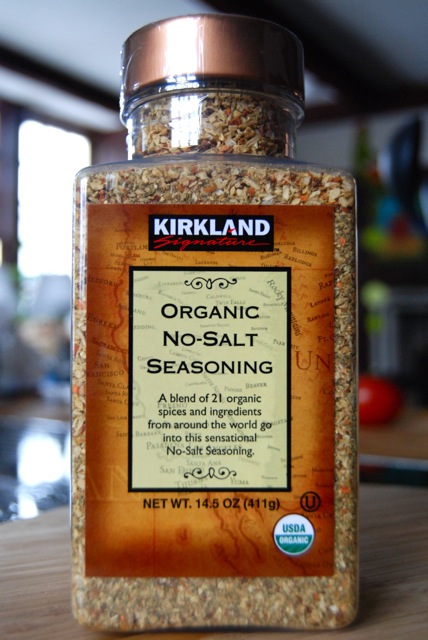 In addition to BJs, Olde Thompson sells its organic no-salt seasoning through Costco (labelled Kirkland Signature) and I have a HUGE (almost 1 pound!) bottle for one lucky winner.
If you'd like to try this fabulous organic no-salt seasoning for yourself, for FREE, leave a comment below.  Please note: all readers are welcome; no residency restrictions.
I'll choose a winner at random this upcoming Saturday, February 4th.  GOOD LUCK!!