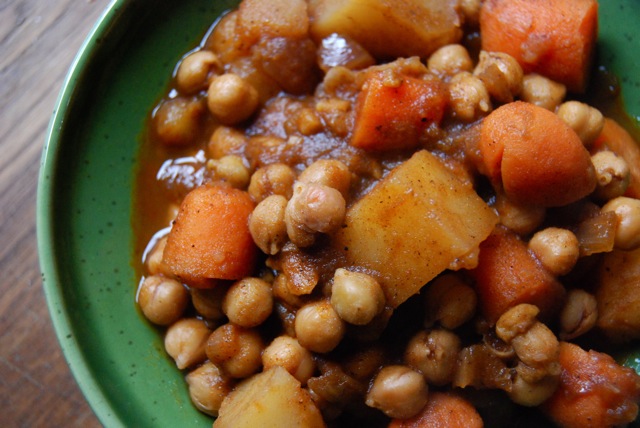 Good morning everyone! Happy Belated Passover!! Happy Belated Easter!! & WELCOME BACK!! Hope you all enjoyed last week's series of guest posts. Wish I'd been savoring each scrumptious morsel with you instead of hauling flaking wood and rodent-gnawed insulation. The good news for my family? As of this morning, our 2nd construction dumpster is on its way out and I am officially trading in my filth-covered respirator for a CLEAN wooden spoon! WOOOHOOOO!!
To mark this momentous occasion, I wanted to dish up something special. I'd spied this Whole Foods recipe before last week's DIY-fest and have been thinking of it ever since. The combination of spices (a homemade Ethopian berbere) is out of this world. Its blend of fiery heat & aromatics packs the most intense level of flavor imaginable without a single grain of salt. Between the toasting of the spices and the roasting of the chickpeas, it's truly a taste-tastic experience! A few quick notes before getting started. First, I've chosen to use low sodium chicken broth (over vegetable) because I prefer the flavor, but if you follow the recipe as written it will be strictly vegan/vegetarian. Second, if you are someone who cannot tolerate spicy food, skip the cayenne and proceed as directed. Third, if pressed for time simply add the canned chickpeas to the stew without roasting. The flavor won't be as intense, but it'll still be delicious. PS: I AM JUST SO HAPPY TO BE BACK!!! I've missed you all so much! 🙂
Yields 6 servings.
SODIUM CONTENT: 95 mg per serving
INGREDIENTS:
1 t. sweet paprika
1/2 t. ground allspice
1/2 t. ground black pepper
1/2 t. ground cardamom
1/2 t. ground cloves
1/2 t. ground coriander
1/4 to 1/2 t. cayenne
1/4 t. ground fenugreek (optional)
1/2 t. ground ginger
2- 15-oz. cans no-salt-added chickpeas, rinsed and drained
3 T. olive oil, divided
2 cloves garlic, finely chopped
1 medium red onion, chopped
1 (1-inch) piece fresh ginger, peeled and finely chopped
1- 8-oz. can no-salt-added tomato sauce
4 c. (1 quart) low-sodium vegetable broth
3 medium potatoes, cut into 1-inch chunks
4 medium carrots, peeled and cut into 1-inch chunks
DIRECTIONS:
Preheat oven to 450 degrees. Line a rimmed baking sheet with aluminum foil and set aside.
Measure the paprika, allspice, black pepper, cardamom, cloves, coriander, cayenne, fenugreek (if using) and ginger into a small bowl; mix well and set aside.
Place the chickpeas in a mixing bowl. Add 1 T. olive oil and toss well to coat. Spread the chickpeas in a single layer on the foil-lined baking sheet. Place on the middle rack in the oven and roast 17 minutes. Remove from oven and set aside.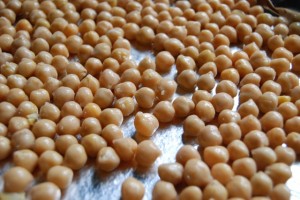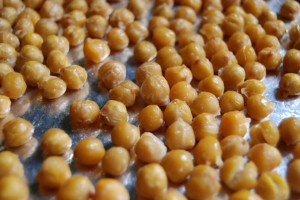 Heat the remaining 2 T. olive oil in a medium pot over medium heat. Add garlic, onion and chopped ginger and cook, stirring, until very soft, 8-10 minutes. Stir in the spice mixture and continue cooking, stirring constantly, until spices are toasted and very fragrant, about 2 minutes. Stir in tomato sauce and cook 2 minutes more.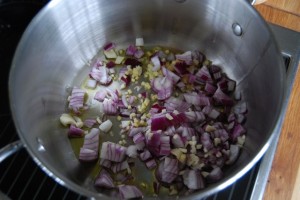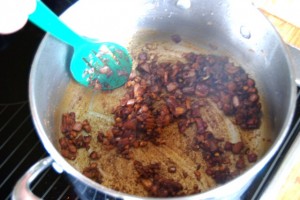 Add the broth, potatoes, carrots and roasted chickpeas and bring to a boil. Reduce heat to medium-low, cover and simmer until potatoes and carrots are just tender, about 20 minutes. Uncover pot and simmer until stew is thickened and potatoes and carrots are very tender, about 10 minutes more. Ladle stew into bowls and serve immediately.