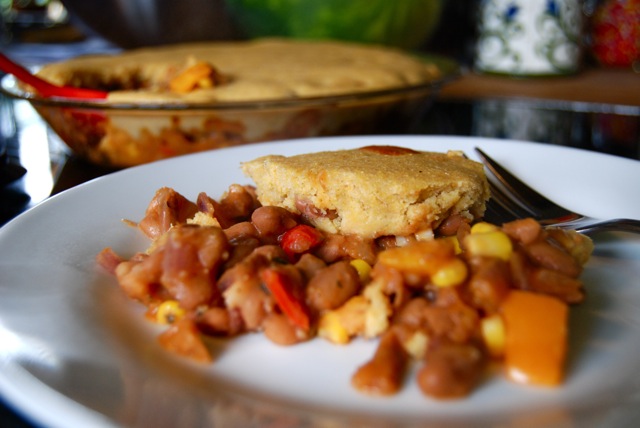 Going vegan, like going low-sodium, is a challenge.  Out the window goes convenience; in its place goes planning.  But having spent the past 8 years reading box labels, scanning aisles for products I can enjoy, and cooking pretty much every meal at home, I can honestly say being plant-based is no different than living life without salt.  As HARD as it seem (all caps) it really hasn't been hard.  Going vegan sounds like it would be crippling in its limitation, but in truth it's the most freeing way of looking at food imaginable.  Without meat on the menu, our plates have broadened to include a far more diverse array of foods and in far greater quantities than before.  We're loving it!
And frankly, with food like this, what's not to love?!  I've seen many versions of Tamale Pie in cookbooks and the internet, but I like this one the best. A hearty southwestern filling of pinto beans, onion, garlic, sweet pepper and corn, baked beneath a blanketing crust of cornbread. It's absolutely delicious, not to mention cheap, easy, and healthy. I'll be serving mine with sauteed collard greens and sliced watermelon for a fully balanced meal.
Adapted from Eden Foods.
Serves 8.
SODIUM CONTENT: 22 mg per serving
INGREDIENTS
Filling:
1 t. olive oil
1 medium onion, diced
4 cloves garlic, minced
1 medium bell pepper, diced
3/4 c. fresh or frozen corn kernels
2-15-oz. can no-salt-added pinto beans (or 3 c. cooked)
1 c. salt-free pasta sauce
1 t. ground cumin
1 t. salt-free chili seasoning
Topping:
2/3 c. cornmeal
2/3 c. white whole wheat flour
1 t. sodium-free baking powder
3/4 c. nondairy milk
2 T. olive oil
2 T. pure maple syrup
DIRECTIONS
Preheat oven to 350 degrees. Spray a deep dish pie pan lightly with oil and set aside.
Heat oil in a saute pan. Add the onion and garlic and saute 2 minutes. Add remaining filling ingredients and saute 2-3 minutes more. Remove from heat and transfer filling to the prepared pie pan. Set aside.
Measure the cornmeal, flour, and baking powder into a mixing bowl. Add the nondairy milk, oil, and maple syrup and stir well to combine. Pour batter over the filling in the pie pan and smooth to even.
Place pan on middle rack in oven and bake until golden brown, 30 minutes. Remove from oven and serve immediately.