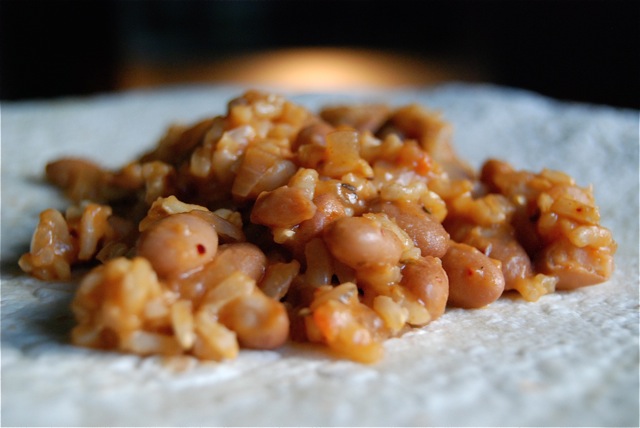 Thanks to Critics in My Kitchen, I found just the right filling for those homemade flour tortillas!
I don't know about you, but I love me some rice & beans. I've made it many ways over the years; this variation – opting for brown over white rice – is the healthiest yet. Now I'm not going to lecture you. I will say if you're not eating brown rice, you really should be. Because in addition to its other amazing health properties, it's super low in sodium. We're talking a mere 10 milligrams per cup!
Brown rice takes longer to cook than white, about 40 minutes compared to 20. But start to finish, this dish'll be on the table within an hour. During that time, you can whip together some additional burrito stuffing ingredients. Can you say guacamole? I flavored my rice and beans with Mrs. Dash Southwest Chipotle, adding additional seasoning once the cooking was done. For an even bigger boost, top with chopped fresh cilantro, low-sodium salsa, shredded Swiss cheese and sour cream.
Yields 4 servings.
SODIUM CONTENT: 27 mg per serving
INGREDIENTS:
1 T. olive oil
1 t. ground cumin
2 t. salt-free chili powder (I used Mrs. Dash Southwest Chipotle)
1 medium red onion, diced finely
1 c. brown rice, rinsed well
2 c. water
1 T. tomato paste
2- 15-oz. cans no-salt-added pinto beans, drained and rinsed well
freshly ground black pepper to taste
DIRECTIONS:
Heat the oil in a 2-quart saucepan over medium. Add the cumin and chili powder and saute until fragrant, 20-30 seconds. Add the diced onion and cook, stirring, until soft.
Add the rice and stir well to coat. Add the water and tomato paste and combine. Bring to a boil.
Once boiling, reduce heat to low, cover and simmer until all of the liquid is absorbed, about 40 minutes.
Remove pan from heat and place contents in a large serving bowl. Add beans to the rice mixture and stir to combine. Season to taste with freshly ground black pepper and additional salt-free seasoning as desired. Serve immediately.