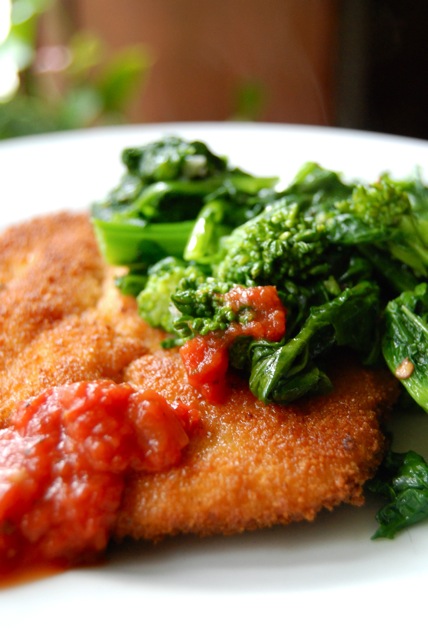 Back in Philly, pre-Meniere's, I used to enjoy the most amazing chicken cutlet sandwiches from Tony Luke's.  A fried chicken breast topped with sauteed broccoli rabe and melted provolone, sandwiched in a heavenly hoagie roll.  If that sounds good, it tasted even better.  I hadn't thought about those sandwiches in forever, but as fate would have it…. After yesterday's post I got to flipping through the American Medical Association Family Health Cookbook, and I found a recipe that compelled me to grab my purse & keys and go running out the door.  Garlicky Broccoli Rabe!!  As soon as I saw it my mouth began to water.  I flew to the market to find exactly ONE bunch of fresh broccoli rabe left in store.  The provolone and hoagie rolls weren't happening on my low sodium diet, but the chicken — NOW we're talking!  A quick tool of the meat section unearthed a magnificent find.  Did you know they now sell prepackaged, skinless/boneless thin-sliced chicken breasts??  OH MY GOODNESS.  Did I ever mention that I don't own a meat mallet?  Well, I don't.  So every time I make chicken parm or something, I am forced to beat my chicken down with a tomato can.  It is pathetic.  Not to mention disgusting, messy and teetering on the edge of abuse.  HEL-LO thin cutlets!  I brought my finds home and got cooking.  Apart from the omission of salt, I followed the broccoli rabe recipe as written and it came out perfectly.  The blanching removes most of the bitterness, so you can really dig in and enjoy.  The improvised chicken cutlets were moist and juicy, with a golden breaded crunch.  I'd be lying if I said I wasn't longing for the melted cheese and roll too, but topped with a little salt-free pasta sauce and a sprinkle of Parmesan, this came pretty darn close.
Yields 6 servings.
SODIUM CONTENT: 110 mg per serving
INGREDIENTS:
Broccoli:
1 large bunch fresh broccoli rabe (about 1 1/2 lbs.)
1 T. olive oil
3 garlic cloves, minced
1/4 t. dried red pepper flakes
freshly ground black pepper to taste
Chicken:
2 c. vegetable oil, for frying
1/2 c. flour
1 egg
2 T. low fat milk
1 1/3 c. unsalted bread crumbs
1 1/2 lbs. boneless, skinless thin sliced chicken breasts
DIRECTIONS:
Place a pot of water over high heat and bring to a boil. While heating, wash the broccoli rabe and cut into 2-inch pieces (stems and leaves). Once water is boiling, add the broccoli rabe to the pot and cook, uncovered, 4-5 minutes. Drain into a colander and set aside.
Place a large skillet over medium heat.  Add the vegetable oil and allow it to heat while preparing the chicken. Get out three shallow bowls. Measure the flour into one, beat the egg & milk in the second, and place the bread crumbs in the third. Dredge each cutlet first in flour, then in the egg, then coat thoroughly with bread crumbs. Set cutlet aside on a piece of waxed paper and repeat process until all the chicken cutlets are coated. Once the oil is hot, place the cutlets, 2 at a time in the oil and fry until golden brown on both sides, 2-4 minutes per side. Remove from oil and set on paper towels to drain.
Once the chicken is cooked, finish the broccoli rabe. Heat 1 T. olive oil in a skillet over medium. Add the garlic and saute one minute, then add the broccoli rabe and red pepper flakes and cook, stirring, until warmed through, a minute or two. Remove from heat and serve immediately. Plate cutlets, top with broccoli rabe and season to taste with freshly ground black pepper. Garnish with no-salt-added tomato sauce and a little grated Parmesan cheese, if desired. ENJOY!