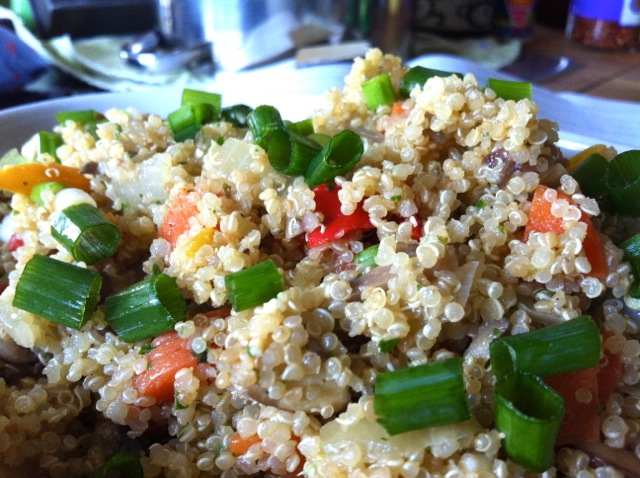 We woke this morning to find several new inches of snow covering the already substantial blanket on the ground.  Busy Monday mornings aren't the best time to learn how to use a snow blower for the first time, but as I had no desire to spend the next 2 hours with the shovel, I said BRING IT.
My husband gave me a quick tutorial before heading off to work.  I'd never used the snow blower before, mostly for fear it would exacerbate my Meniere's symptoms, as the lawn mower sometimes does.  I was a little hesitant initially, but as the snow began disappearing from the drive with clean, non-back-breaking strokes, I felt a surge of power that was almost palpable.  I was showing that snow who's BOSS!   Left throttle for the blower, right for the motion, crank the shaft and crank again, always keeping the snow arcing off at an acceptable distance.  It took me a few swipes to figure out that it's really best to start in the middle and work your way out to the sides.  Or, conversely, begin at one end, and work your way down, throwing the snow away and clearing it up again as you move along.  Having never used a snow blower before, I'm really quite pleased with the result, and now feel confident adding "driveway plower" to my resume, along with fire tender, wood hauler, and master cleaner of the chicken coop.
Anyway, when I finally got back inside, after not only snowblowing, but also shoveling off the woodpile, hauling in 8 wheelbarrows of firewood, tending to the chickens, feeding the turkeys, and generally channeling my best Rosie the Riveter, I was HUNGRY.  Too hungry for a simple breakfast, even though it was only 10:30 am.  I wanted a meal.  I also wanted it now.  The Everything DASH Diet Cookbook, to the rescue!  I flipped through the pages, eyeballing ingredients, and lo and behold – I had it!  Quinoa – check.  Veggies – check.  Ingredients for the pesto…?  No peanuts, but we definitely had cashews.  CHECK.
Today's low-sodium recipe is terrific for breakfast, lunch, or dinner, especially after an inaugural snow blowing session.  Fluffy and filling, this hearty one-dish meal has a fabulous combination of flavors. Because it's vegan, and uses quinoa (a gluten-free grain), it's a great choice for potlucks, parties, and other group events. The pesto calls for peanuts, but other nuts work equally well; as mentioned above I love cashews.
Recipe from The Everything DASH Diet Cookbook.
Yields 6 servings
SODIUM CONTENT: 59 mg per serving
ADDITIONAL NUTRITIONAL FACTS (per serving):
Calories: 204
Fat: 4 g
Protein: 7 g
Fiber: 5 g
Carbohydrates: 35 g
Sugar 5 g
INGREDIENTS
1 c. quinoa
2 c. water
PESTO:
1/2 c. fresh cilantro
1/4 c. light coconut milk
1/4 c. unsalted peanuts (or another nut of choice)
4 cloves garlic
Juice and zest of 1 fresh lime
VEGGIE MIXTURE:
1 t. olive oil
1 medium onion, diced
2 medium carrots, diced
8 oz. mushrooms, chopped
1 medium red bell pepper, diced
3 T. cilantro peanut pesto (reserved)
2 scallions, sliced
Freshly ground black pepper, to taste
DIRECTIONS
Measure the quinoa into a saucepan. Add water and bring to a boil over high heat. Once boiling, reduce heat to medium-low, cover, and simmer for 15 minutes. Once cooked, remove from heat and set aside.
Place pesto ingredients into a food processor and pulse until smooth. Reserve 3 tablespoons for this dish; transfer the rest to an airtight container and refrigerate until use.
Heat oil in a saute pan over medium heat. Add the onion and saute 2 minutes. Add carrots, mushrooms, and bell pepper and cook, stirring, 8 minutes. Remove from heat.
Stir in the cooked quinoa and pesto. Sprinkle with the scallions and season with freshly ground black pepper to taste. Serve immediately.