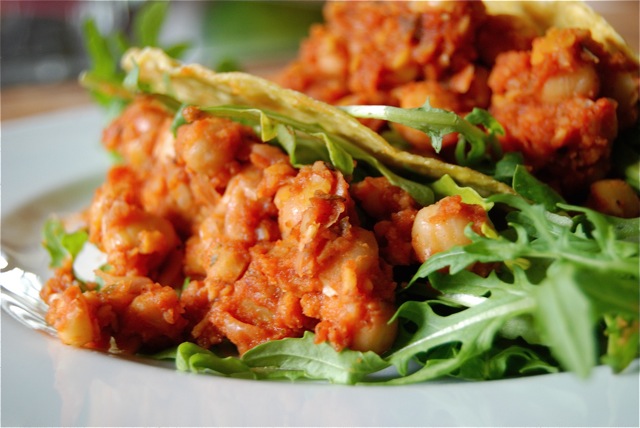 Meatless Mondays are BACK! And to give you a taste of what's to come, I wanted to share a recipe I created especially for the upcoming Everything DASH Diet Cookbook.
These truly are the tastiest tacos ever! A thick and spicy sauce dotted with meaty garbanzos, the peppery cool of arugula, and crunchy bite of corn. Spoon extra filling over cooked brown rice or salt-free tortilla chips if you run short of packaged shells. Adjust the pepper and pepper flakes to suit your taste; less if you prefer milder tacos, more if you like them spicy. I opted to use garlic and onion powders to make these table ready in 10 minutes, but you can of course substitute finely chopped fresh onion and garlic if you prefer.
Canned no-salt-added garbanzo beans are a great choice for busy lives, but if you find yourself eating beans multiple times a week, consider investing in a pressure cooker. You'll more than make up the purchase price in savings. Some canned no-salt-added beans can cost upwards of $4 per can (!!) whereas dry beans typically run a couple dollars at most per pound. I bought a pressure cooker some time ago and use it to make beans once or twice a week. If you're wondering which one to buy, I have a 6-quart stainless steel model from Fagor and can't recommend it enough.
Whole Foods sells organic sodium-free taco shells in both yellow and blue corn. They're very tasty and a super good deal at only $2.79 a package. Bearitos also makes great low-sodium taco shells; they're sold in many supermarkets, health food stores, and online.
Serves 6.
SODIUM CONTENT: 25 mg per serving
INGREDIENTS
1 pkg. sodium-free or low-sodium taco shells
6 c. baby arugula
2 3/4 c. cooked no-salt-added chickpeas
1-8-oz. can no-salt-added tomato sauce
4 T. salt-free tomato paste
1 T. apple cider vinegar
1 T. brown sugar
2 t. salt-free chili seasoning
1 t. ground dry mustard
1 t. onion powder
1/2 t. garlic powder
1/4-1/2 t. freshly ground black pepper (to taste)
1/8-1/4 t. dried red pepper flakes (to taste)
DIRECTIONS
Heat taco shells according to package directions.
Wash the arugula and pat dry. Set aside.
Measure remaining ingredients into a saucepan and stir well to combine. Place pan over medium heat and simmer, stirring frequently, 10 minutes.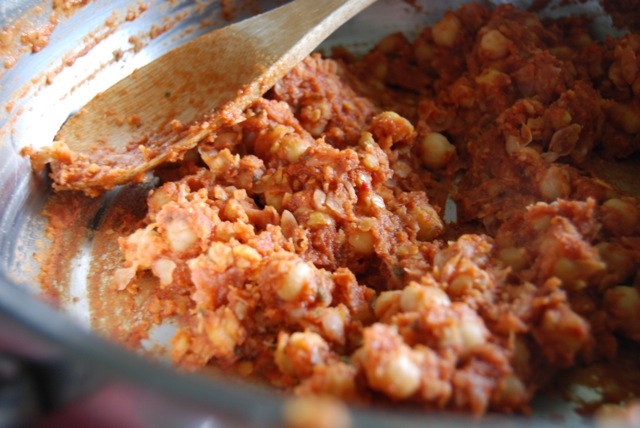 Remove from heat. Fill warm taco shells with arugula and spoon bean mixture over top. Serve immediately.