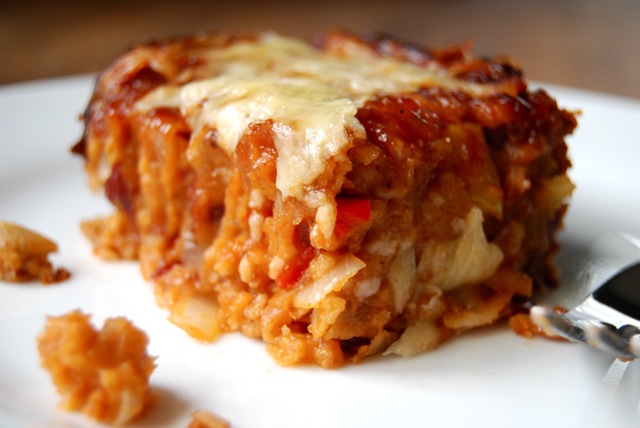 One of my new year's resolutions is to reduce the amount of meat my family & I are consuming. To further this goal I've committed to Meatless Monday for the duration of 2012. I hope you'll join me!
Today you're in for a TREAT. This is one of my favorite meat-free main courses; certain to please die-hard meat eaters and vegetarians alike. The premise is simple. Boil three potatoes and mash, along with a can of salt-free kidney beans. Add some sauteed onion, garlic and bell pepper. Season with tangy ketchup, BBQ sauce and mustard (all salt-free of course), stir in oats for heft, then pop in the oven and bake. Before it's done, top with extra sauce and a sprinkling of cheese. The result is gooey, moist, melt-in-your-mouth comfort food. Pure deliciousness with absolutely no guilt!
The basic recipe makes for easy adaptation. Try salt-free salsa instead ketchup or BBQ sauce, add different vegetables and herbs (like corn, jalapenos and fresh cilantro), or just use what you have on hand.
Adapted from The Complete Cooking Light Cookbook.
Serves 6.
SODIUM CONTENT: 69 mg per serving
INGREDIENTS
3 medium potatoes (Yukon Gold work wonderfully here)
1- 15-oz. can no-salt-added kidney beans
2 t. olive oil
1 1/2 c. chopped bell pepper
1 c. chopped onion
2 garlic cloves, minced
1 1/2 t. ground cumin
1 t. no-salt-added chili seasoning
1 1/2 c. old-fashioned or quick oats
1/2 c. no-salt-added barbeque sauce, divided
1/4 c. no-salt-added ketchup
2 1/2 t. Westbrae no-salt-added stoneground mustard (or equivalent)
freshly ground black pepper, to taste
1 c. shredded Swiss cheese (or for vegans, your choice of non-dairy cheese)
DIRECTIONS
Preheat oven to 375 degrees. Get out an 8 or 9-inch square pan, spray lightly with oil and set aside.
Scrub the potatoes well, cut into cubes and place in a 3-quart saucepan. Add enough water to cover, then bring to a boil over high heat. Once boiling, reduce heat slightly and cook until tender, roughly 15 minutes. Once cooked, drain and mash the potatoes. Set aside.
Open the kidney beans, drain and rinse well. Mash the beans using the tines of a fork and set aside.
Heat the oil in a skillet over medium. Add the bell pepper, onion, garlic, cumin & chili seasoning and cook, stirring, 3 minutes. Remove from heat. Stir in the mashed potatoes and beans, oats, HALF of the barbeque sauce (reserve the remaining 1/4 cup), ketchup, mustard and black pepper to taste.
Spoon mixture into prepared pan and smooth top to even.
Place on middle rack in oven and bake 30 minutes.
Remove from oven. Spread remaining barbeque sauce over top and sprinkle with shredded cheese.
Return to oven and bake 10 minutes. Remove from oven. Cool 10 minutes before slicing and serving.