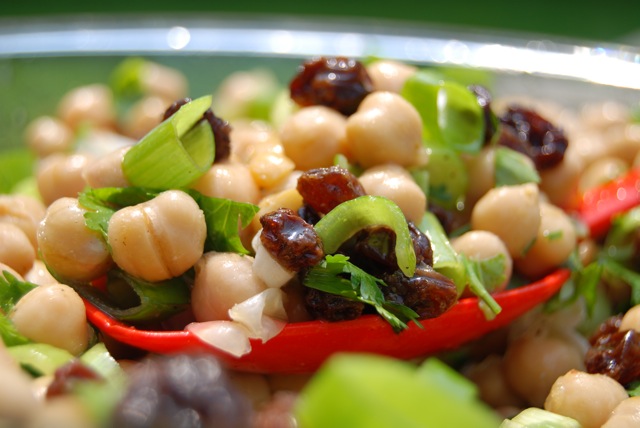 It's 90 degrees today in Portland, and if it's this hot here I can't imagine how hellish it is elsewhere. When the temperature soars this high, I am seeking refuge outside the kitchen. But as much as I argue w/ my stomach, I still have to eat. Solution? SALAD. Apart from heating a single stove burner for a minute or two, this recipe requires no additional cooking and will be table-ready in about 10 minutes. My advice? If possible, make it ahead, omitting the cilantro until the very end. This allows the flavors to meld and makes the chilled result that much tastier and more refreshing. This salad is seriously satisfying on a day like today. The hearty chickpeas are hefty enough to stand in for meat, the scallion and cilantro lend zing and interest, and the raisins add the perfect subtle sweetness. It's a great twist on a more traditional bean salad, one I hope you enjoy as much as I do. Recipe courtesy of Real Simple.
Yields 8 servings.
SODIUM CONTENT: 21 mg per serving
INGREDIENTS:
1 c. seedless raisins
1/4 c. red wine vinegar
2 t. sugar
3- 15-oz. cans no-salt-added garbanzo beans, drained and rinsed
1 c. fresh cilantro, chopped
4 scallions, sliced thinly (whites and greens)
1/3 c. olive oil
1/2 t. ground cumin
1/4 t. freshly ground black pepper
DIRECTIONS:
In a small saucepan, bring the raisins, vinegar and sugar to a simmer over medium heat. Remove from heat immediately and set aside to cool.
Place the chickpeas, cilantro, scallion, olive oil, cumin and ground pepper in a large mixing bowl.Add the cooled raisin mixture and stir well to combine. Serve immediately.