Nothing brings a summer party together as much as a good old pasta salad. And now that the weather's finally warming up, I wanted to share my family's all-time favorite.
The beauty of this salad lies in its simplicity and adaptability. All you need are veggies, a box of pasta, and a bunch of shelf-stable staples. Don't like olives? Leave 'em out! Hate broccoli? Add snap peas! Although I've written the recipe the way I like it, feel free to improvise to suit your own taste.
I use a fairly generous amount of oil in this dressing. If you prefer to use less, I would suggest swapping some of the oil for low-sodium vegetable juice. You will still have some thickness and lots of flavor, but with much less fat. If you cannot find low-sodium olives or salt-free chickpeas, you can use the "regular" canned kind, but rinse them VERY thoroughly to eliminate as much sodium as possible. If you've never seeded a cucumber, here's how. First peel the cuke, then slice in half lengthwise. Take a spoon and carefully scrape down the centers until you've removed all seeds, then dice. Easy! And speaking of easy, the fastest way to prepare the squash and zucchini is to similarly halve each lengthwise, then halve again. Line up the 4 quarters and slice. Tah-dah!
This recipe makes a LOT of salad; perfect for any potluck, BBQ, or picnic party. Throughout the summer I typically make this once a week, then store in a jumbo container in the fridge, and we eat it for days. It keeps really well, is sooo easy and SO GOOD. Really hope you enjoy it as much as we do!
Yields 12 servings
SODIUM CONTENT: 20 mg per serving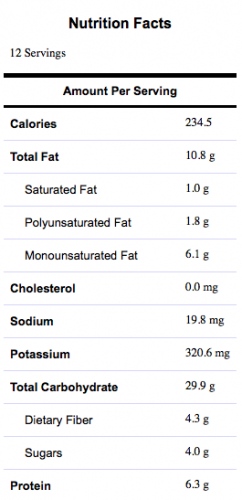 INGREDIENTS
SALAD:
1 lb. dry rotini (or similar pasta)
1 medium red onion, diced
2 c. grape tomatoes, halved if desired
1 15-oz. can no-salt-added chickpeas, drained and rinsed
1/3 c. low-sodium olives, sliced
1 medium cucumber, peeled, seeded and diced
1 medium sweet bell pepper, diced
3 c. chopped fresh broccoli
1 small/medium yellow squash, diced
1 small/medium zucchini, diced
DRESSING:
4 T. olive oil
4 T. canola oil
4 T. distilled white vinegar
4 T. apple cider vinegar
4 T. water
1 t. onion powder
1 t. garlic powder
1 1/2 t. sugar
1 1/2 t. dried oregano
1 t. dried parsley
1 t. no-salt-added all-purpose seasoning
1/4 t. dried basil
1/4 t. freshly ground black pepper
1/8 t. dried thyme
DIRECTIONS
Cook the pasta according to directions, omitting salt. Drain and set aside.
Prepare all the veggies and place in an extra large mixing bowl. Add pasta. Set aside.
Measure all of the dressing ingredients into a small mixing bowl and whisk well to combine. Pour dressing over the salad and toss well to coat.
Serve salad immediately or cover and refrigerate until serving.