HAPPY HALLOWEEN! In honor of the occasion I was going to post an obviously "treat" but decided on a culinary trick instead. Although this recipe is a strictly healthy side and looks like something savory, it's actually sweet! Deliciously so!
A friend recently gave me some of his garden produce as a thoughtful and practical birthday gift. The acorn squash was so pretty, I didn't want to waste it on just any recipe, so after a little research I found a great side that also happened to be super low-sodium.
The acorn squash is sliced and then roasted along with an orange, orange juice, maple syrup, and a touch of spice, yielding a toothsomely tender, deliciously different and sweet side, perfect for partnering with more savory holiday fare. This is great with roasted veggies and/or meats, mashed potatoes or sweet potatoes, steamed broccoli, sautéed green beans, and other favorites. I'm not saying you're going to serve it with ice cream.. though that's definitely intriguing. But if you're looking for a sweet new *something* to serve at Thanksgiving and beyond, this could be a keeper!
NOTES:
#1) For ease in cutting, the squash is washed, dried, and then cooked in the microwave for 2 minutes. If you don't have a microwave, simply skip this step. Slicing may be a bit harder, but far from impossible.
#2) I kept the squash unpeeled for two reasons: 1) The skin ensures the squash slices retain their shape fully during cooking rather than falling apart, and 2) The added color looks pretty. The skin is indeed edible, though tougher than the tender inner flesh. So if you prefer cooking without the skin, simply peel before slicing. Conversely, you could peel and then dice the squash if preferred. Lots of ways to make this recipe your own! ENJOY!
Recipe adapted from Prevention's The Healthy Cook.
Serves 4.
SODIUM CONTENT: 8 mg per serving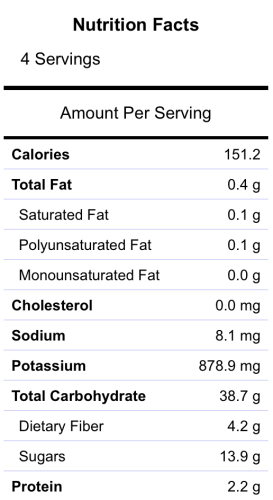 INGREDIENTS
1 medium acorn squash
1/3 c. orange juice
1 seedless orange, peeled
3 T. pure maple syrup
1/2 t. ground cinnamon
1/8 t. ground nutmeg
DIRECTIONS
Preheat oven to 400 degrees. Get out a large sided baking sheet or jelly roll pan (the deeper the better). Lightly oil and set aside.
Wash and dry the squash, then place on a paper towel or sheet of waxed paper, put in the microwave and cook on high 2 minutes.
Remove the squash from the microwave (carefully, it may be hot!) and then cut in half. Remove seeds and discard. Slice squash halves into 1/2-inch thick slices. Arrange the squash in a single layer on the baking sheet. Pour the orange juice evenly over the squash, then cover pan tightly with aluminum foil.
Carefully place baking sheet on middle rack in oven and bake 10 minutes, until squash is almost fork-tender.
Remove pan from oven and uncover. Set foil aside momentarily.
Gently flip the squash slices, then slice the peeled orange into 1/4-inch thick slices and add to pan, arranging on top as necessary. Drizzle the mixture evenly with the maple syrup, then sprinkle with cinnamon and nutmeg.
Cover pan tightly with foil and return to the middle rack in oven. Bake for 10 minutes, then remove pan from oven. Uncover the pan and discard aluminum foil.
Flip the squash and orange slices carefully – they will be hot! Then return pan to the middle rack in oven and bake uncovered 15 minutes, until squash and orange slices are lightly caramelized and tender.
Remove from oven and serve immediately.