Now that the grant contest is over & the check's on its way, time to ….. SPEND THAT MONEY!
Apart from upgrading this website and writing a cookbook, I'm also using the grant to buy a CSA share.  If you're unfamiliar with the concept, CSA stands for Community Supported Agriculture.  In sum a farmer sell shares in his or her harvest to the public, who, in exchange for their money, receive fresh produce on a weekly basis.  Back in Philly my family and I participated in a CSA, even going so far as to host the pickup site on our front porch for a couple years.  After moving to Maine, my family and I bought a share in another local farm, which subsequently folded.  So this year I'm starting again from scratch. Which farm to choose??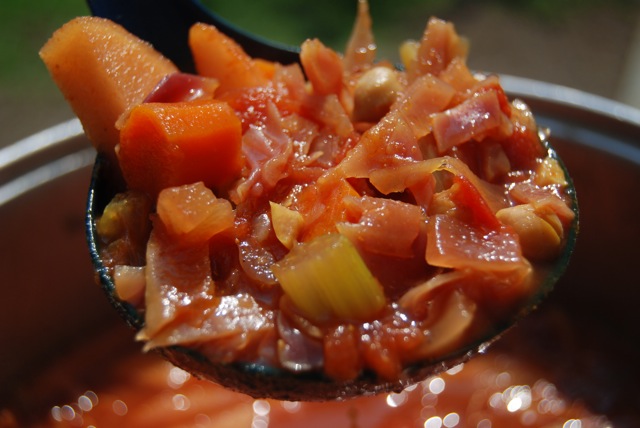 I found today's recipe on the website of a farm I've been considering.  I'm still undecided about the farm, but this soup?  FANTASTIC.  I love cabbage!  But even if you don't, this soup may change your mind.  Do you like Bacon?  Well here's a little secret.  Red cabbage, after simmering, looks just like BACON.  Take a look at that photo above and tell me you don't see it!  Yet red cabbage has even less sodium than its green brother, and a whole lot less than actual bacon.  And when added to a pot of delicious vegetable or chicken broth along with a boatload of other veggies, well — it's hard to tell the difference.  This soup also takes full advantage of the spicy salt-free kick of curry powder, calling for a full three tablespoons!  Not big on curry?  Reduce the amount.  But for pete's sake, please DON'T omit the apples.  Trust me when I say this one ingredient elevates this humble soup to far higher heights.  And no need for a special type of apple either; simply peel what's on hand and slice.
Yields 8 servings.
SODIUM CONTENT: 134 mg per serving
INGREDIENTS:
2 T. olive oil
2 med/large onions, diced
5 medium carrots, peeled and sliced
2 stalks celery, diced
1 medium head red cabbage, sliced
1- 28-oz. can no salt added tomatoes, with juice – crushed with hand
8 c. low-sodium chicken or vegetable broth
3 T. no salt added mild curry powder
2 cloves of garlic, peeled and minced
1- 15-oz. can no salt added garbanzo peas
3 cored, sliced apples
freshly ground black pepper to taste
DIRECTIONS:
Saute the onions, carrots, and celery in olive oil until the carrots are medium soft and the onions are yellowed. Add cabbage, saute for a minute, then add tomatoes (and their juice), broth, curry powder and garlic. Bring to a boil, reduce heat, cover and simmer 1/2 hour.
Add chickpeas and apples and simmer, stirring, 20 minutes. Remove from heat and serve immediately, seasoned with freshly ground black pepper to taste.