I got an email two days ago from a friend in Philly.  Spring has already arrived there, the crocuses are up and the birds are back.  I read this email while sitting in my car staring out across a yard still in the throes of deep freeze.  Snow blankets most of our brown grass, 2 foot drifts surround the house and daily I must traverse our icy path, praying to God I don't slip and break something (like my pride).  I love Maine.  It is indescribably beautiful, but come March, when the snow has turned dirty and people are longing for the sun, it's hard not to feel impatient for spring.  And as much as I'd love to store my slow cooker away until fall, it's still in high rotation.  Today's recipe comes from Food Network Kitchens Favorite Recipes.  My version eliminates the salt and Parmesan cheese, slashing the sodium down to almost nil while retaining all the heft and hearty flavor.  The dried porcini mushrooms in particular add tremendous depth, smoky taste and meaty bite – at only 7.5 mg sodium!!  So whether you're enjoying warm sunshine or like me, gray chill, this soup is a nourishing, lovely treat your body will thank you for.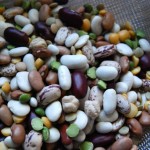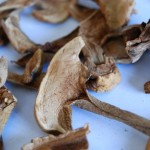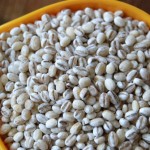 Yields 6 servings.
SODIUM CONTENT:  89 mg per serving
INGREDIENTS:
1 c. dried multibean mix (NO flavors added), picked over and rinsed well
6 c. water
1- 14-oz. can no salt added diced or whole tomatoes, with juice
3 cloves garlic, minced
2 medium carrots, peeled and diced
2 stalks celery, diced
1 small onion, peeled and diced
1/2 c. pearl barley
1/2 oz. dried porcini mushrooms
1 bay leaf
2 t. dried Italian seasoning
freshly ground black pepper to taste
3 c. fresh baby spinach leaves (about 3 oz.)
1 T. balsamic vinegar
DIRECTIONS:
Place beans, water, tomatoes (with juice), garlic, carrot, celery, onion, barley, mushrooms and seasonings into the slow cooker. Stir to combine. Place the lid on top and set to low. Cook on low for 8 hours.
Just before serving, add the spinach and vinegar. Stir to combine, allowing the leaves to wilt. Remove the bay leaf and serve immediately, garnished with a little shredded Swiss cheese if desired.