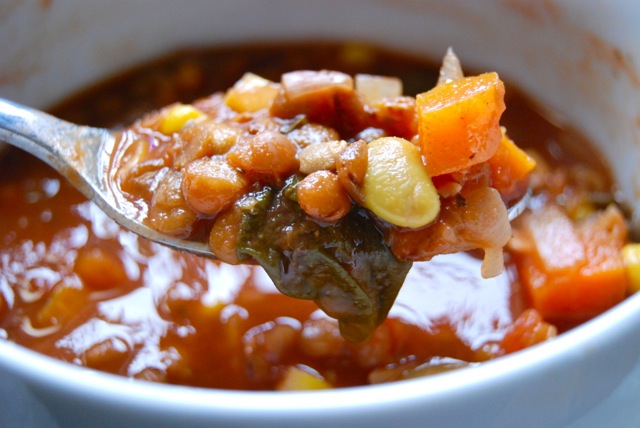 Forgive the major delay in posting. As much as I'd like to blame the 4 feet of snow we received last month, my kids' school vacation week, the laundry, the dog, or the constant fire-tending, I'm just going to (wo)man up and accept responsibility. Instead of typing, I was watching season 2 of Game of Thrones. Instead of photographing elaborate dinners, I was drinking wine. And when I could have been chained to the oven, I was out roller skating. I cannot say it won't happen again (I'm just being honest) but I will at least pretend to be sorry for keeping you waiting so long. Hopefully when you taste this soup, all the bad feelings you've been harboring will wash away magically like the dirt on my car when it rains.
SO. Are you READY FOR SOME FLAVOR???????
So much flavor, SO MUCH FLAVOR !!! I know I say this all the time, but dagnabbit I mean it. As with other recent slow cooker favorites, I used V8 Low Sodium Vegetable Juice in lieu of broth. If you have not tried this, oh please, will you do so now? I mean, it is SO GOOD. Even my daughter (the picky one) LOVES IT. You may not fully appreciate the weight of that statement, but if you knew her in real life you really really would. Tomato-rich, thick and absolutely delicious, the V8 adds a ton of flavor without salt and at 140 mg sodium per cup is comparable to most commercial low sodium vegetable broths. BONUS! The V8 is so flavorful, you can "stretch" the soup base further with water instead of additional broth, making the soup lower in sodium without sacrificing any flavor. Trust me. TRY IT. YOU WILL LOVE IT.
I used fresh baby spinach because it's what I had on hand, but you can of course use regular (adult) spinach leaves, chopped, without stems.
ONE LAST NOTE! Adding the liquid smoke just before serving keeps the smoky flavor at the forefront and REALLY makes this soup, so don't be lazy and toss it in at the start. I mean it.
Recipe adapted from Robin Robertson's Fresh From the Vegan Slow Cooker.
Yields 8 servings
SODIUM CONTENT: 210 mg per serving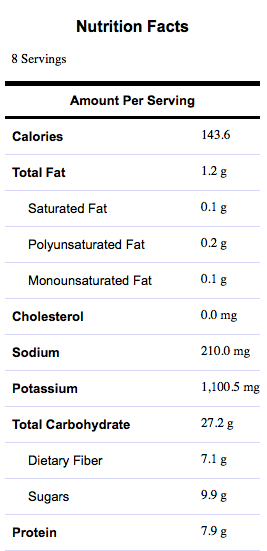 INGREDIENTS
1 large onion, diced
3 medium carrots, diced
2 medium stalks celery, diced
3 large cloves garlic, minced (more if you love it)
1 c. dried lentils, rinsed
1 c. frozen edamame
1 c. fresh or frozen corn kernels
10 oz. fresh baby spinach
1-14.5 oz. can no-salt-added diced tomatoes, with juice
6 c. low-sodium vegetable juice (or broth)
2 c. water
1 T. low-sodium soy sauce
1 t. dried basil
1 t. salt-free all-purpose seasoning
1/2 t. dried thyme
1/4 t. freshly ground black pepper
1/2 t. liquid smoke
DIRECTIONS
Place all of the ingredients – EXCEPT LIQUID SMOKE – into the slow cooker and stir well to combine. May be a bit bulky because of the spinach at first. Just do your best. Cover the slow cooker and set to Low for 6-8 hours or High for 4-5 hours, stirring occasionally if possible. Cook until veggies and lentils are tender. Just before serving, stir in the liquid smoke. Then GET SLURPING! SOoooo GOOD!