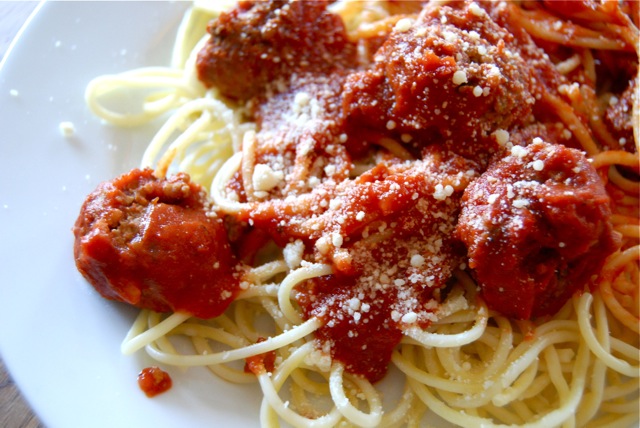 Are you ready for some meatballs???!!
If you like meatballs – I mean REAL meatballs, you're going to love these! Once cooked, these vegetarian "meatballs" look so authentic, you'll have a tough time telling the difference. And the taste? Delicioso!
Before the meatballs are cooked, their "batter" (for lack of a better word) will be soft and fluffy. This may strike you as odd, but as they cook the mixture binds together, rendering the finished meatballs solid. The uncooked meatballs are, however, delicate. Spoon them gently into the pan to simmer and turn them once, very gently, halfway through cooking time. This will ensure they stay together.
When cooking my veggie meatballs, I poured the entire jar of pasta sauce into the pan, and later regretted it. Some of the liquid evaporated, leaving sauce stuck to the bottom of the pan and the remainder super thick. My suggestion is to either add a little water as the mixture cooks – which should alleviate this problem – or conversely, pour only half the jar of sauce into the pan, reserving the rest for serving. As for the sauce itself, I highly recommend Francesco Rinaldi's No-Salt-Added Traditional Pasta Sauce (sold in many supermarkets nationwide) or Trader Joe's Organic No-Salt-Added Marinara Sauce. Both are inexpensive and very tasty.
Today's recipe was adapted from the American Heart Association's Recipes for the Heart Cookbook. It's a slim publication, similar to those sold at supermarket checkouts, and was given to my mother as part of AHA's "Go Red for Women" campaign. Since Friday was National Wear Red Day I thought this was a particular fitting choice (pun intended).
Serves 6.
SODIUM CONTENT: 81 mg per serving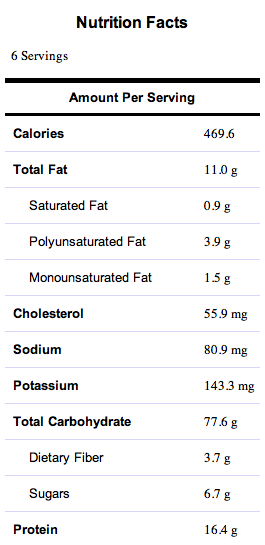 INGREDIENTS
Meatless Meatballs:
1/2 c. low-sodium vegetable broth
1/3 c. uncooked bulgur
1 t. olive oil
4 oz. baby bella mushrooms, chopped
1/2 c. sliced scallions
1 T. balsamic vinegar
1/3 c. chopped walnuts
1/3 c. panko
1 large egg
2 large egg whites
1/2 t. dried thyme
1/4 t. red hot-pepper sauce (such as Tabasco)
1- 25-oz. jar no-salt-added pasta sauce
1 lb. dried spaghetti
1/4 c. grated Parmesan cheese
DIRECTIONS
In a small saucepan, bring the vegetable broth to a boil. Add the bulgur, stir to combine, and remove pot from heat. Cover the pot and let stand 20 minutes. Drain any excess broth and set aside.
In a skillet, heat oil over medium. Add the mushrooms and scallions and cook, stirring, until soft, about 5 minutes. Stir in the vinegar. Remove from heat and spread mixture on a plate to cool to room temperature, about 10 minutes.
Place the mushroom mixture and walnuts into a food processor. Pulse until coarse. Add the bulgur and finely chop. Add the remaining "meatball" ingredients and pulse to combine. Let stand 5 minutes to absorb liquid.
Pour the pasta sauce into a pot or saute pan over medium heat and bring to a simmer. Once simmering, use a tablespoon to scoop out the meatball batter and gently add the meatballs to the pan. Reduce heat to low, cover and simmer 10-15 minutes, until the balls are firm. Turn the meatballs halfway through the cooking time, being very gentle so as not to break them.
Meanwhile, prepare the pasta according to package directions (omitting salt).
Serve the pasta topped with meatless meatballs and sauce, sprinkled with Parmesan cheese.