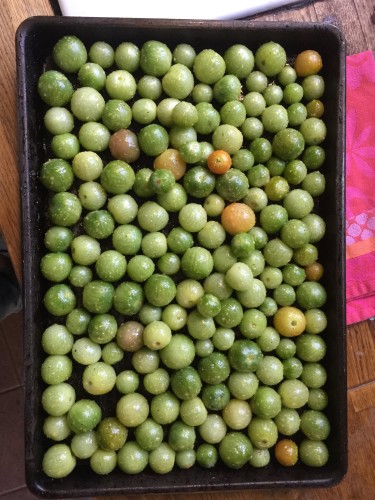 Temps are falling fast here in northern New England, and I came out this morning to find the windshield of my car covered in thin layer of frost. Not enough to have to scrape, but more than my windshield wipers could handle without a generous squirt of blue liquid. I've spent the weeks since early August harvesting everything my garden has to offer, and in the past month have come to grips with the fact that everything is tapering off. Except for the tomatoes. Oh, the tomatoes! Abundant green globes as far as the eye can see. But with the onset of cold nights and cooler days, real ripening is a thing of the past.
Never fear, intrepid eaters! "Waste not, want not" wasn't just my grandma's motto, here in Maine, it's a way of life! We all know that roasting is the magic hat of cooking. You pop [whatever it is] into the oven and POOF! Pure deliciousness. Everything from potatoes to broccoli to radishes, all rendered irresistible with little more than a lot of heat.
And it goes double for all of those leftover cherry tomatoes. Green, rock hard, and at first glance, completely inedible, it takes almost no work to make them the best side dish you've had in ages. And not just side dish! No way! Sure, they're absolutely delectable on their own, but if you have a whole lot (and boy did I), you can roast and use them in everything imaginable.
As a topping for tacos or burritos;
As a filling for wrap sandwiches;
As a stand-in for canned tomatoes in your favorite soup, stew, or chili;
As a base for pasta sauce;
As a base for salsa verde;
and more!
Like James Brown says, "Just use what you got, to get what you want." Please use the recipe below as you'd like – verbatim is fine, but it's even better if you expand and/or tweak it, and make it your own.
Yields 2 (roughly 1-cup) servings.
SODIUM CONTENT: 47 mg per serving
INGREDIENTS
4 c. green cherry tomatoes
1 T. olive oil
1 t. all-purpose salt-free seasoning
1/2 t. garlic powder (if not in seasoning above)
1/4 t. dried thyme
1/4 t. freshly ground black pepper
DIRECTIONS
Preheat oven to 425 degrees. Get out a sided baking sheet and set aside.
Wash the tomatoes and place in a mixing bowl. Add the remaining ingredients and toss well to coat. Spread in a single layer on the baking sheet, rolling it gently around to arrange. Place baking sheet on middle rack in oven and bake roughly 45 minutes to 1 hour, until tomatoes are nicely deflated and juicy.
Remove from oven. Serve hot or cold. Store leftovers in the fridge for up to 5 days, adding to recipes or consuming as desired. ENJOY!