My family and I love bananas. This summer we enjoyed them pretty much daily, and when we ran out of fresh I took to emptying the freezer of all the stockpiled "brown stragglers" I'd accumulated to make banana bread.
If you're someone who scoffs at vegan baked goods, I implore you: MAKE THIS BREAD. Not only is it irresistibly moist, tender, and filled with banana flavor, it's hands down the best banana bread I've ever baked. I know that sounds crazy, but I mean it. You do not need eggs, dairy, or salt to make exceptional baked goods.
It's simple too. Seven ingredients, one bowl, and a loaf pan. 350 degrees and an hour & 15 minutes later you'll be rewarded with a house that smells fan-freaking-tastic and a loaf of bread you won't be able to keeps your hands off.
A word about egg replacement. Ener-G makes an egg replacement powder that can be used in lieu of the real deal in baked goods. It's a fine product, and in addition to being sold online, it's often sold at natural food stores, Whole Foods, and even at some mainstream supermarkets in the natural foods or gluten-free aisle. Ground flax seed, sometimes labeled finely ground flax meal, can also be used as an egg substitute. In either case, a tablespoon of powder or ground flax is typically combined with a few tablespoons water and left to sit a few minutes, after which the mixture thickens similarly to an egg and can be added to the batter.
Last, whenever making banana bread it's important not to over-stir! The batter can become gummy quickly, so measure ingredients into the bowl and stir gently, just until combined. ENJOY!
Yields 1 loaf
SODIUM CONTENT: 1 mg per serving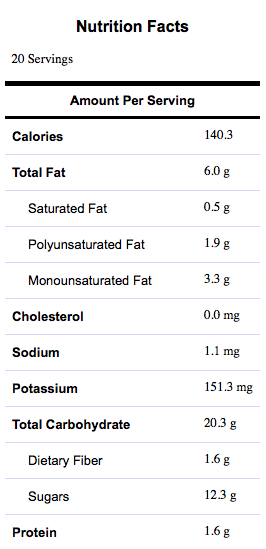 INGREDIENTS
egg replacement for 3 eggs
3 ripe bananas
1 c. sugar
1 1/2 c. white whole wheat flour
1 T. sodium-free baking powder
1/2 c. canola oil
1 T. pure vanilla extract
DIRECTIONS
Preheat oven to 350 degrees. Oil and flour a small (roughly 8 x 3 inch) loaf pan and set aside.
Prepare the egg replacement according to package directions and set aside.
Peel the bananas and place in a large mixing bowl; mash well using a potato masher, ricer, or fork. Add the sugar, flour, baking powder, oil, vanilla, and prepared egg replacement. Stir gently, just until combined, then transfer batter to the prepared pan.
Place pan on middle rack in oven and bake for 1 hour and 15 minutes. Remove pan from oven and place on a wire rack to cool.
Once cool, remove loaf by gently inverting pan. Cover loaf or store in an airtight container.