A surprise snow day this morning had me baking a surprise breakfast for myself and my daughters. This lemon-scented cornbread is subtly sweet and dotted with juicy blueberries. Partnered with orange juice, it makes a great start to the day, but it's equally good as an anytime coffee cake or homey dessert. Don't have blueberries? The basic recipe works well with other berries, particularly blackberries, raspberries, or chopped strawberries. It's delicious as is, but can be fancied up with lemon sauce or curd, jam, whipped cream, yogurt, or ice cream. For the ultimate indulgence, sprinkle a cinnamon crumb mixture over top before baking (equal parts flour, quick oats, brown sugar, your choice of fat, and a little ground cinnamon).
The recipe as written is vegan – no animal products needed! – but traditionalists can adapt by substituting a large egg for the flaxseed-water combo and an equal amount of cow's milk for the nondairy version (there's a negligible change in sodium, from 15 mg to 16 mg per serving). If you don't have a fresh lemon, add 1/2 – 1 teaspoon lemon extract instead of the juice and zest. Either fresh and frozen berries will work fine here, but if using frozen be sure to thaw and drain before adding. If you prefer muffins, pour batter into a standard 12 muffin tin and bake at 400 degrees for 25 minutes (20 mg sodium per muffin).
Recipe adapted from Vegetarian Journal magazine.
Serves 16.
SODIUM CONTENT: 15 mg per serving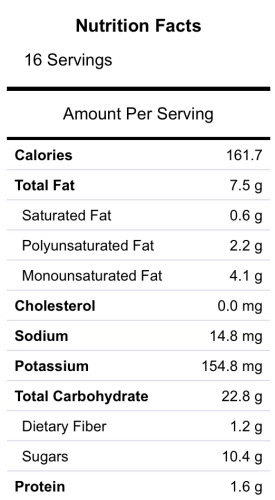 INGREDIENTS
1 T. ground flaxseed
3 T. water
1 c. nondairy milk
1 t. lemon juice
1 c. unbleached flour
1 c. cornmeal
3/4 c. sugar
1 T. sodium-free baking powder
1 t. fresh grated lemon zest
1 c. blueberries (fresh or frozen)
1/2 c. canola oil
1 t. pure vanilla extract
DIRECTIONS
Preheat oven to 400 degrees. Lightly oil an 8-inch square baking pan and set aside.
Combine the ground flaxseed and water in a small bowl and set aside. Pour the nondairy milk into a measuring glass, add the lemon juice, and set aside.
Measure the flour, cornmeal, sugar, baking powder, and lemon zest into a large mixing bowl and whisk well to combine. Add the blueberries to the flour mixture and toss gently to coat.
Combine all of the wet ingredients – the flaxseed mixture, the milk-lemon juice combo, the oil, and vanilla extract – either in the measuring glass or another bowl, and then add to the dry mixture, stirring gently just until combined. Don't overmix!
Pour the batter into the prepared pan. Place on the middle rack in the oven and bake for 30 minutes. Remove pan from oven and place on wire rack to cool. Cool at least slightly before cutting into squares and serving (or pieces will fall apart). ENJOY!