It's nearly February, high time for me to finally say HAPPY NEW YEAR! and share something delicious. And what could be more delicious than a recipe steeped not only in spice, but in SPICY LANGUAGE?? Oh yessss. Today's recipe is adapted from an irreverent cookbook designed to take the highbrow out of healthy cooking, the brilliantly awesome Thug Kitchen: Eat Like You Give a F*ck. For those unfamiliar, Thug Kitchen is a vegan cookbook (and website) with quick, easy, accessible recipes generously peppered with adult language. More than mere F bombs, however, Thug Kitchen offers incredibly thoughtful and undeniably delicious recipes, many of which are adaptable for a low-sodium audience.
The "Five Spice" in the title refers to Chinese 5-Spice Powder, a flavorfully fragrant, salt-free blend of cinnamon, cloves, star anise, pepper, and fennel. It's sold in many supermarkets and speciality food stores, but if you can't find it, you can make your own. Combine 1 teaspoon ground cinnamon, 1 teaspoon anise seed or 1 star anise, 1/4 teaspoon fennel seed, 1/4 teaspoon freshly ground pepper, and 1/8 teaspoon ground cloves. Pulse into a powder using a small spice grinder, food processor, or mortal and pestle. This yields a tablespoon; you only need a 1/4 teaspoon for this recipe. Store excess for later because you're gonna need it. This stuff is good.
The real key to this recipe (and making perfect fried rice in general) is to always use COLD RICE ONLY. Not warm, and definitely not hot! Otherwise everything just globs together. If time is tight, many stores sell pre-made brown rice. Just be sure to thaw the rice and do not warm it up. You want the grains to be cool, nicely firm, and separate. Plain, leftover rice works great here; otherwise, be sure to make your rice ahead of time and chill completely, or for at least a couple hours in the fridge. This recipe uses brown rice because it's healthier, but white rice will work equally well if that's all you have.
Apart from making the rice, this is a speedy 15-minute side that morphs easily into a one-dish meal. Add extra protein in the form of roasted sweet potatoes, chickpeas, baked tofu, tempeh, cooked chicken, or scrambled egg. Toss in whatever veggies you have on hand – pea pods, peppers, broccoli – even cubed fruit like pineapple or mango. Extra stuff just makes it prettier and more flavorful.
A final note about ingredients. Be careful when buying frozen green peas. I know I've written this before, but if you don't check the nutrition facts, you may wind up with peas containing as much as 200 mg sodium per serving. Most stores have at least one brand that is "nude" – meaning no added salt – but you may have to check 5 bags to find it. Similarly, rice vinegar is often sold as 'seasoned' or flavored in some manner, meaning it's loaded with salt. Check labels carefully, and be sure to buy the NATURAL (unsalted) kind. If you can't find any, substitute white distilled vinegar or apple cider vinegar instead. Onto soy sauce. For this recipe I used a brand called China Town Low Sodium Soy Sauce. It's sold in select stores and online at HealthyHeartMarket.com. At a mere 145 mg sodium per tablespoon, it's well worth the investment in sodium savings alone. For comparison: Kikkoman Low Sodium Soy Sauce (575 mg/tablespoon) will raise the sodium of this fried rice from 94 mg to 255 mg per serving. And if you use China Town you can easily add another 1/2 tablespoon of soy sauce to the dish without a milligram of guilt. Finally, Sriracha is an Asian-style red chili sauce sold in supermarkets nationwide. It typically contains 60 mg sodium per teaspoon, so use it sparingly, but even a little bit lends a HUGE burst of flavor, so please don't skip!
Serves 4.
SODIUM CONTENT: 94 mg per serving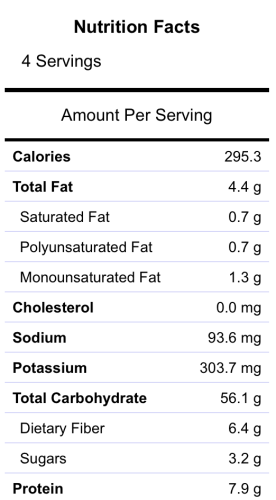 INGREDIENTS
2 t. canola oil
1 medium onion, diced
3 cloves garlic, minced
2 medium carrots, diced
4 c. COLD cooked brown rice
1 c. frozen green peas
1 1/2 T. low-sodium soy sauce
1 T. natural (unflavored) rice vinegar
1 t. Sriracha (Huy Fong brand "rooster sauce" is my favorite)
1/2 t. ground ginger
1/4 t. Chinese 5-spice powder
freshly ground black pepper to taste
DIRECTIONS
Heat the oil in a wok or large saute pan over medium heat. Add the onion, garlic, and carrots and cook, stirring, 5 minutes. Add the remaining ingredients and stir well to coat. Cook, stirring, 5 minutes, until rice is fragrant and veggies are tender. Remove from heat and serve immediately.
** For an added treat, top with chopped unsalted cashews or peanuts and sliced green onion. ENJOY!