Since my daughters are home for winter break, I've decided to devote this week to Cooking with Kids! We'll be selecting simple salt free / low sodium recipes, easy enough for children to create, yet delicious enough for the entire family to enjoy. My daughters will be running the show in the kitchen, I'll do clean up, and hopefully we'll have a lot of fun in the process. So without further ado, let's get to today's recipe! This frappe is so yummy. Perfect for breakfast or a great *pick me up* anytime. I'm not sure if it's the winter blahs setting in, but there's something to be said for a sweet splash of sunshine to lift the spirits. This recipe comes from my beloved Stonyfield Farm Yogurt Cookbook. If you don't have plain yogurt, feel free to substitute whatever flavor you have on hand. Who knows what crazy combinations you'll come up with (particularly with kids involved!)
Serves 2.
SODIUM CONTENT: 75 mg per serving
INGREDIENTS:
1 banana
1 c. plain yogurt
1 c. orange juice
DIRECTIONS:
Slice the banana into pieces, then place in a blender or food processor.
Add the yogurt, then pour in the orange juice.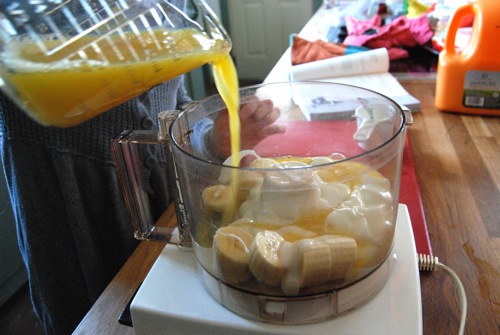 Put the lid on tight! Then process until smooth.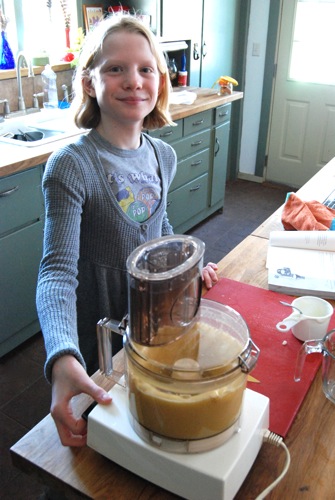 Pour into glasses and serve immediately. ENJOY!