Last night we went to Walmart.  I don't normally shop there but needed to replace my magical grease removing spray (aka, Dawn Power Dissolver).  Since Walmart is a bit of a novelty, we got a cart and proceeded to see what else was in store. In addition to an amazing deal on Haagen-Dazs (2 pints for $5) and a bargain brand of wine that looked promising (Lucky Duck) I found what can only be described as THE BEST THING I HAVE SEEN IN MY TWO YEARS HERE IN MAINE.  In the middle of the snack food aisle, on the very bottom shelf, sat a row of bags that nearly took my breath away.
Utz No Salt Added Potato Chips, not just plain, but BARBEQUE FLAVORED!!!! My squeals of delight filled the air, causing several shoppers to turn in amusement.  Back in Philly, Utz was my favorite brand of unsalted potato chips.  Crisp, light as air, with a consistently fabulous fresh potato taste, Utz No Salt Added were my GO TO chips.  I'd buy them by the Family Size, typically two or three bags at a time, and hide them from my children.  When we moved to Maine, Utz became a treasured rarity.  They aren't sold many places here, and every time I find a bag I inhale them like oxygen.  Well my beautiful friends, Utz is BACK IN TOWN.  I bought 3 jumbo bags last night and woke this morning in fevered anticipation.  I'd made the plan to sample the chips first thing and then write all about it.  I was SO EXCITED!!!  Until, that is, I came downstairs to find one of the BBQ bags torn open and half the contents gone.  Beside the open bag sat an untouched can of Pringles.  Translation: my daughters chose to wolf down unsalted BBQ chips for breakfast in lieu of one of the best selling salted snack foods on the market.  If that isn't the most telltale sign that Utz are the BOMB, I don't know what is.
After wrestling the bag away from my youngest, I finally got my first taste. And WOWZA! No wonder my kids were hooked!  Sweet and spicy and SENSATIONAL.  Utz No Salt Added Barbeque Chips taste every bit as delicious as the "regular" kind – but better.  Most flavored chips are overpowered by salt, you can hardly taste anything else.  But by removing that initial salty PUNCH IN THE MOUTH, the taste buds discern so much more.  It seems ironic, but it's the lack of salt in these Utz Barbeque Chips that accentuates and heightens the other flavors, bringing the bite of the barbeque to the very forefront.  It's a winning combination of onion and tomato, paprika, garlic and sweetness that's irresistible. And less than 5 mg of sodium per serving!!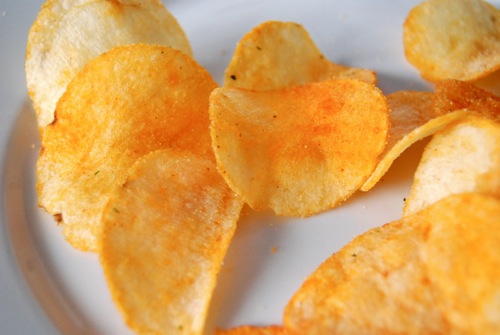 Utz are manufactured in Hanover, Pa, about 2 and a half hours outside Philadelphia, and are sold readily throughout that area.  For information about stores near you, call Utz toll free at 800-367-7629 or order online.