Howdy friends! As promised, here's the first of hopefully many new recipes I'll be sharing from my next cookbook, The Everything Guide to the MIND Diet. And since it's almost the weekend – WOOHOO! – what better way to start than with a hearty breakfast?
Pancakes are a staple in our house. I make a double batch each weekend, then bag the extras and store in the fridge for easy grab-and-go breakfasts.  My daughters often eat them like that – plain and unheated – and say they're as good as they were warm. I love my daughters.  
These lemon poppyseed pancakes taste just like your favorite citrus muffin – in pancake form! They're also super low in sodium at a mere 46 mg per serving. I love them slathered in pure maple syrup, but they're equally delicious with fruit-flavored syrup, sliced fresh fruit, or jam.
For the brightest flavor, use the juice and zest of a fresh lemon. If you don't have fresh fruit, substitute 2 tablespoons bottled lemon juice and 1/2 teaspoon lemon extract instead.
And if you're wondering WHERE ARE THE EGGS?? These don't require any. I don't make pancakes with eggs anymore and I actually like them better without. The batter is less runny, the pancakes more fluffy, and they're even lower in sodium. Try them, and see!
Serves 4. (Yields 4 good-sized pancakes.)
SODIUM CONTENT: 46 mg per serving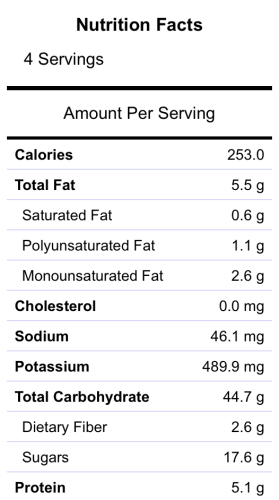 INGREDIENTS
3/4 cup unbleached all-purpose flour
1/2 cup white whole wheat flour
1/4 cup sugar
1 tablespoon sodium-free baking powder
1 tablespoon poppy seeds
Grated zest of 1 fresh lemon
1 cup nondairy milk
Juice of 1 fresh lemon
1 tablespoon agave nectar
1 tablespoon olive oil
2 teaspoons pure vanilla extract
DIRECTIONS
Measure the flours, sugar, baking powder, poppy seeds, and lemon zest into a mixing bowl and whisk together. Add the remaining ingredients and whisk until combined.
Heat a nonstick griddle or skillet over medium-low to low heat. Once hot, ladle roughly 1/4 cup batter onto the pan. Cook until bubbles appear on the surface of the pancake and the bottom is golden brown, roughly 2 1/2 minutes.
Flip the pancake and repeat process on the second side, cooking 2 1/2 minutes. If pancakes appear to be browning too quickly, lower heat immediately to low.
Repeat cooking process with remaining batter. Serve pancakes warm. Leftovers may be stored in fridge 3-5 days.