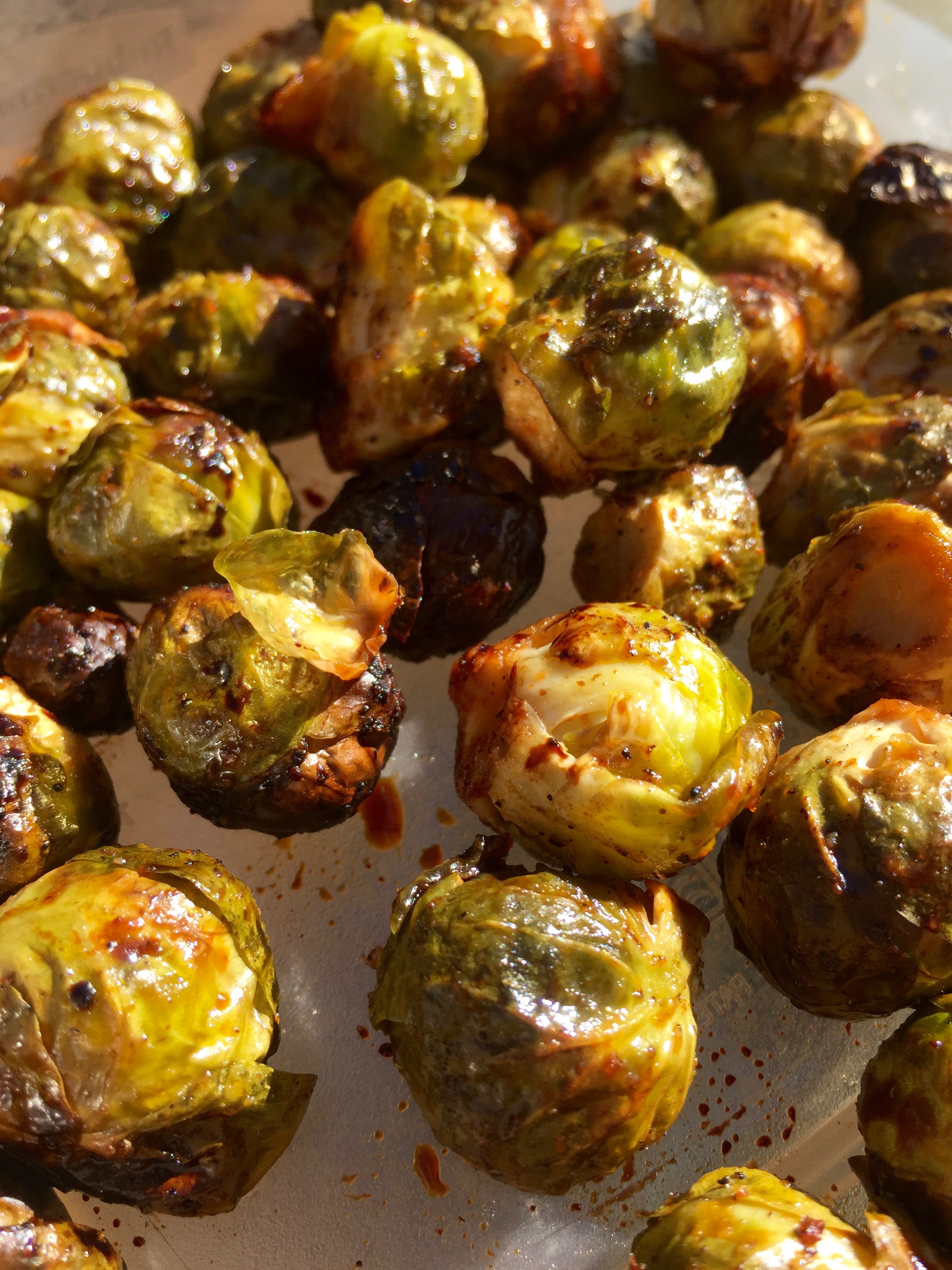 Fall has finally arrived! HOORAY! Here in Maine the leaves are flying, folks are donning fleece, and kids of all ages are getting ready for Halloween. In mere weeks, stores will swap pumpkin for all-things-peppermint, and as soon as Black Friday (and maybe sooner) Christmas carols will play over every PA. Before I miss my chance — given my last post was in JUNE — I'd like to share a tasty low-sodium side perfect for autumn meals.
Brussels sprouts are so good for you! Super high in Vitamins K and C, antioxidants, and more, they're even said to naturally lower cholesterol. WOOT! This recipe transforms these tiny little cabbages into a spicy-sweet caramelized candy. You'll find yourself popping them straight from the oven into your eagerly waiting mouth – again, and again!
Created for The Everything Guide to the MIND Diet, the recipe is so-o-o simple. Just heat the oven. Toss sprouts with a tangy sauce. Roast. Enjoy! That's it.
The sauce itself is made from pantry staples, so as long as you have Brussels sprouts on hand, you can make this side anytime. I like using fresh lime juice, but the bottled stuff works just as well. For amped-up flavor, feel free to half the amount of Brussels sprouts. Or double everything and make enough for the whole neighborhood. Cruciferous candy for all!
Serves 8.
SODIUM CONTENT: 116 mg per serving
INGREDIENTS
8 cups (2 pounds) fresh Brussels sprouts, trimmed and larger ones halved or quartered
1 T. agave nectar
1 T. lime juice
1 T. low-sodium soy sauce
1 T. olive oil
1 T. sriracha
1/2 t. freshly ground black pepper
DIRECTIONS
Preheat oven to 400 degrees. Line a baking sheet with parchment and set aside.
Place Brussels sprouts in a mixing bowl.
Measure the agave, lime juice, soy sauce, olive oil, and sriracha into a small mixing bowl and whisk well to combine. Pour the mixture over the sprouts and toss well to coat.
Spread sprouts in a single layer on the parchment and sprinkle evenly with pepper.
Place baking sheet on middle rack in oven and bake 35 minutes until tender.
Remove sheet from oven and serve immediately.  ENJOY!