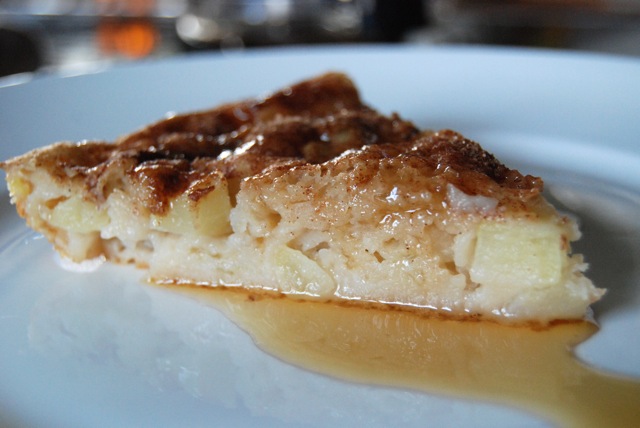 Happy Friday, everyone! I don't know about you, but I am really looking forward to this weekend. Mostly because it's supposed to be WARM. Like in the mid-70s to 80 degrees kind of warm. Right now it is 44. My hands are cold and I'm resentful. It's not even mid-October yet, I should NOT NEED MITTENS!
Take a good look at that photo. I just inhaled two slices and am looking forward to more. Would you believe me if I told you that light and fluffy pancake above has zero eggs and no milk? I've made pancakes before with soy milk, but they've always had at least one egg. I wasn't quite sure I could get the consistency and texture right without them. But after a couple tries, I think it's perfect. Moist and delicious, airy and ADDICTIVE. And with apple season in full swing, another great way to enjoy them. Drizzled with some pure maple syrup it's a heavenly way to fill your belly. Breakfast for dinner, anyone?
Yields 8 servings.
SODIUM CONTENT: 17.3 mg per serving
INGREDIENTS:
Batter:
2 c. diced apple
1 T. pure vanilla extract
1 T. Featherweight sodium free baking powder
1 c. flour
1/3 c. applesauce
1/3 c. pure maple syrup
3/4 c. non-dairy milk (I like vanilla almond milk)
Topping:
1 T. sugar
1/2 t. ground cinnamon
DIRECTIONS:
Preheat oven to 400 degrees. Lightly coat an oven-safe skillet with vegetable oil (the spray kind works great here).
Measure all of the batter ingredients into a large mixing bowl and stir well to combine. Pour batter into the prepared skillet and smooth top to even.
Combine the sugar and cinnamon in a small bowl and sprinkle evenly over the batter.
Place pan on middle rack in oven and bake 25 minutes. Remove from oven. Carefully loosen pancake from pan using a spatula. Slice into sections and serve immediately.