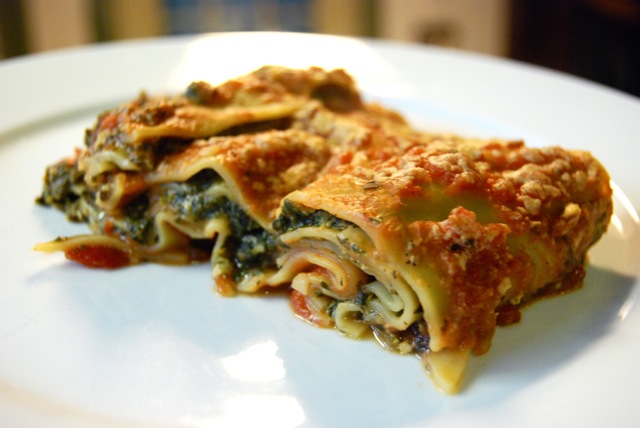 I've seen a few foodie friends posting their extra cheesy and delicious looking lasagnas lately and it's really put me in the mood to make one myself. Years ago I figured out a way of reducing the sodium in a standard (meat) lasagna, by substituting silken tofu for ricotta cheese. I got to thinking about this yesterday, how I'd mash the tofu with an egg and use that as filling. But on a vegan diet eggs are out; would the plain tofu work? I was at the grocery store yesterday when it came to me. That big tub of organic greens I'd just bought on sale would be perfect for a vegan lasagna! I could mix the tofu with that and it wouldn't have to stand alone.
I grabbed some oven-ready noodles and headed home. Last night when I pulled my very first vegan lasagna from the oven, while my children looked on with skepticism, I knew in my heart it was going to be great. And you know what? It was! Completely salt/meat/dairy AND egg free and still as delicious as the others I've made. It isn't gooey with cheese because it doesn't have any. But I didn't miss it and I don't think you will either.
A note on products. Red Star Nutritional Yeast stands in for Parmesan for a "cheese" like topping. It's sold at Whole Foods markets and many natural food stores. If you've never used it before, it's terrific in this recipe and much more. Sprinkle it on popcorn, pasta, anything you'd like to perk up; it's got a zingy cheese-like taste and is super nutritious. And at a mere 11 mg sodium per serving, feel free to pour it on!
Yields 6 servings.
SODIUM CONTENT: 68 mg per serving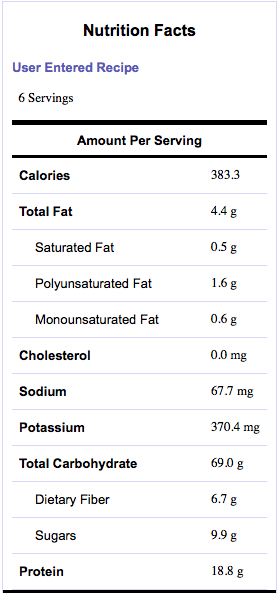 INGREDIENTS:
1- 26-oz. jar no-salt-added pasta sauce (or ~3+ cups homemade NSA sauce)
1 pkg. oven-ready lasagna noodles
7 c. fresh dark leafy greens (kale, spinach, collard, chard, etc. or mix thereof)
1 medium onion, diced
2 garlic cloves, minced
1 lb. silken tofu
freshly ground black pepper to taste
1 t. dried Italian seasoning
1/8 t. dried red pepper flakes
1 1/2 T. nutritional yeast flakes
DIRECTIONS:
Preheat oven to 400 degrees.
Get out a 9 x 13-inch baking pan. Spoon slightly more than a cup of sauce into the bottom of the pan and spread evenly. Place a layer of lasagna noodles over top, overlapping the edges just slightly. Set aside.
Place the onion and garlic into a stockpot over medium heat. Saute until soft, then add the fresh greens. Cook, stirring, until greens have wilted completely and released some of their juice. Remove pot from heat. Place entire contents (including liquid) into a food processor, cover and pulse until finely chopped.
Place the silken tofu into a mixing bowl and whisk to break up any chunks. Once the tofu is smooth, add the finely chopped greens and stir well to combine. Season to taste with freshly ground black pepper, Italian seasoning and red pepper flakes.
Spoon roughly one third of the filling onto the noodles in the pan, then smooth to even. Top with another layer of noodles, overlapping the edges just slightly, then repeat twice more.
Spoon the remaining sauce evenly over the last layer of noodles, then sprinkle the nutritional yeast flakes over top.
Cover the pan with aluminum foil and place on the middle rack in the oven. Bake 50 minutes, until lasagna is piping hot and noodles are soft. Remove from oven, carefully remove the foil and serve immediately.