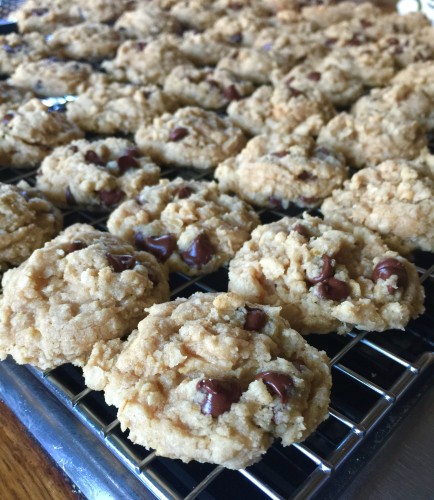 YES! Another cookie recipe!!!
Before you healthy types start grumbling, let me state several reasons for posting back-to-back cookie recipes.
1) These may be my favorite cookies of all time (too close to call).
2) I made them yesterday and therefore have a fresh photo to share.
3) I leave next week for Hotlanta. This is likely my last post before I get back, and I want it to be good. This is a great recipe for the upcoming Thanksgiving festivities. It makes a boatload of cookies (6 DOZEN!), perfect for sharing with friends and family, freezing for later consumption, trading at a holiday cookie swap, sending home with strangers, donating to a local soup kitchen, or just filling your fat pants (we all have them, no shame).
4) They are freaking delicious. They are almost sodium free. What more do you need?
These cookies are for the peanut butter & chocolate lovers in your life. They are perfection in cookie form. The rolled oats make them healthy, and chew-tastic. Basically, if you love soft chocolate chip cookies, and you love Reese's PB cups, plan on baking these cookies as soon as possible. And then give them to a friend or hide them or …? Seriously, you're gonna need to watch out because they are so good, you'll find yourself inhaling half a dozen at a time, easy. Be sure to break out some comfy pants. Or set your self control to overdrive. Either way, ENJOY!
Recipe adapted from Vegan With A Vengeance.
Yields 6 dozen cookies.
SODIUM CONTENT: 2.4 mg per cookie
INGREDIENTS
2 c. flour
2 c. rolled oats
2 c. sugar (1/2 brown and half white is fine, as is all of either)
2 t. sodium-free baking powder
1 c. chocolate chips
3/4 c. no-salt-added peanut butter
3/4 c. canola oil
1/2 c. nondairy milk (regular milk should be fine too, if you don't have any)
2 t. pure vanilla extract
DIRECTIONS
Preheat oven to 350 degrees. Line two baking sheets with parchment and set aside.
Measure the ingredients into a large mixing bowl and stir well to combine. The dough will be moist and firm. Use a small cookie scoop or tablespoon to drop cookies onto the lined baking sheet, placing roughly 2-inches apart.
Place the baking sheet on middle rack in oven and bake 10 minutes. Remove baking sheet from oven and let cookies cool on sheet for a few minutes before transferring to a wire rack to cool fully.
Store cookies in an airtight container.