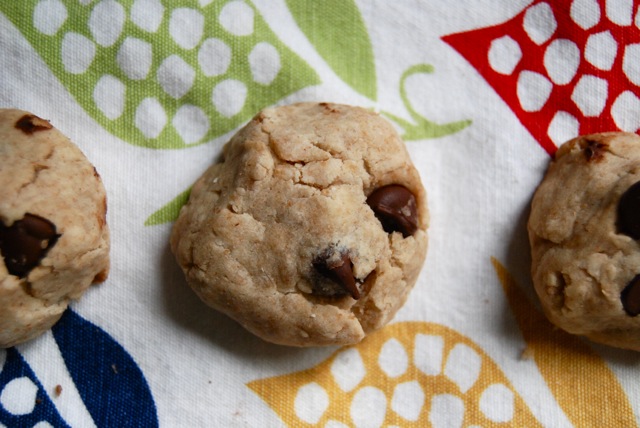 My husband asked me yesterday whether I have any vegan recipes on The Daily Dish. The answer is YES. I've shared many vegan recipes in the past 4 years, some categorized as such, but many of them not. As I explained to him, many things we eat routinely are in fact vegan, but nobody thinks of them that way. Like applesauce. It's such a common food – and by that I mean not just basic but common to all – meat-eaters, vegetarians and vegans alike – you just don't think of classifying it a "vegan" food. But it is. Which makes me think veganism isn't as far out of reach as it may initially seem.
In honor of my dad, I'm dedicating the rest of this week to strictly vegan fare. Dr. Caldwell Esslestyn's book Prevent and Reverse Heart Disease includes several chapters of recipes. Wanting to leave no stone unturned, I also spent time yesterday searching vegan websites and visiting two local library branches. There's nothing more encouraging than a big stack of cookbooks and I've found some great ones.
One of my favorite vegetarian authors is Nava Atlas. I've written about her before, but if you've never seen or read any of her books do yourself a favor and check one out. Nava runs a vegan website, VegKitchen.com, devoted to easy and delicious plant-based recipes (and much more).
These yummy cookies are adapted from a recipe on Nava's site. Created by Leslie Cerier, another amazing chef and author, the recipe was originally written as mint chocolate chip cookies. Unfortunately, I didn't have any mint extract, so I just made my plain, but next time. oh YEAH. Now you may be wondering (as I was) IS CHOCOLATE VEGAN?? Happily, yes. Although some brands of chocolate contain milk derivatives, others do not. Trader Joe's and Whole Foods, for instance, sell store-brand chocolate chips that are 100% vegan, not to mention TASTY. So when in doubt, check the packaging.
I made these cookies with oil. Although my dad's vegan diet is more restrictive, allowing for no oil at all, mine is not. If you are looking for fat-free cookies, simply substitute an equal amount of unsweetened applesauce for the oil and POOF! Magically nutritious. The recipe as written calls for 2 cups whole wheat flour. I had only 3/4 cup whole wheat left, so I also used unbleached white flour. Whichever flour you like best will work fine and you can even make these gluten-free by using brown rice flour.
The cookies themselves? DELICIOUS. They are drier than a traditional chocolate chip cookie because they contain so little fat and no egg. But the taste is all there. Partnered with some vanilla almond milk, they were amazing, and 12 hours later are almost completely gone. This vegan diet may grow on me.
Yields 32 cookies.
SODIUM CONTENT: ~1 mg per cookie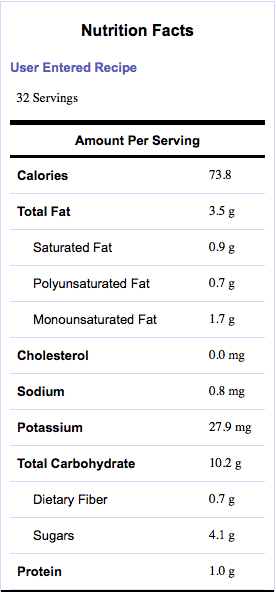 INGREDIENTS:
1 1/4 c. unbleached all-purpose flour
3/4 c. whole wheat flour
1/3 c. vegetable oil (or applesauce)
1/3 c. pure maple syrup
1 T. pure vanilla extract
3/4 c. semisweet chocolate chips
2 T. water
DIRECTIONS:
Preheat oven to 375 degrees. Get out a couple baking sheets and set aside.
Measure the flours, oil, maple syrup and vanilla into a large mixing bowl and stir to combine. The mixture will be quite dry and crumbly. Add the chocolate chips and stir well. Add the water and stir to incorporate.
Scoop the dough a tablespoon at a time and shape into cookies. Place cookies on the baking sheet and bake on middle rack in oven 10 minutes.
Remove from oven and transfer to a wire rack to cool. Store cookies in an airtight container.