Sweetser's is a wonderful family owned and operated orchard here in southern Maine. We stopped by last weekend and in addition to the best cider ever, picked up today's recipe. These apple-walnut brownies are heavenly on their own, but served warm with a scoop of ice cream, they are DIVINE. Dense and ultra moist, chewy with a crispy sugar-coated crust, they're autumn in a cookie bar.
Yields 24 blondies.
SODIUM CONTENT: 29 mg per blondie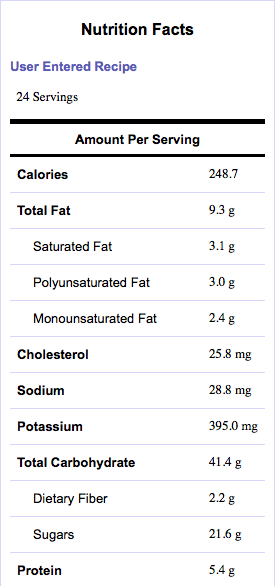 INGREDIENTS:
Batter:
1/2 c. (1 stick) unsalted butter
1 c. brown sugar, packed
1 c. sugar
2 eggs
2 t. pure vanilla extract
2 t. Featherweight sodium-free baking powder
1/2 t. ground cinnamon
2 c. flour
1 c. chopped apples
1 c. coarsely chopped walnuts
Topping:
1/4 c. raw sugar
1 1/2 t. ground cinnamon
DIRECTIONS:
Preheat the oven to 350 degrees. Grease a 9 x 13-inch baking pan and set aside.
Melt the butter in a small saucepan over medium heat or in the microwave. Pour melted butter into a mixing bowl, add the sugars and stir well to combine. Beat in the eggs and vanilla. Add the baking powder and cinnamon and mix well. Gradually stir in the flour, scraping the sides of the bowl as necessary. Once the flour is incorporated, add the chopped apples and walnuts and stir until completely combined. The batter will be very thick.
Spread the batter into the prepared pan.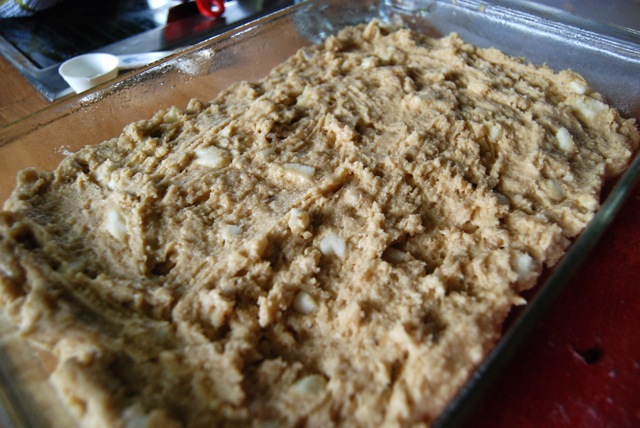 In a small bowl, mix together the raw sugar and ground cinnamon, then sprinkle evenly over the batter.
Place the pan on the middle rack in the oven and bake 35-45 minutes. Remove from oven and set pan on a wire rack to cool. Allow blondies to cool at least 20 minutes before slicing and serving.