Looking for a gourmet meal to make any time? Today's APPLE WEEK recipe is table-ready in 20 minutes! Apples play a supporting role here, but what a part they play. The pork is prepared simply, panko-coated and pan-fried. It's quick and absolutely stupendous, not to mention low in sodium. But the sauce is what makes this main course truly memorable. The flavors of apple and pork meld so fluidly, add the bite of sour cream and rev of horseradish and it's OUT OF THIS WORLD.
When I made this yesterday, my younger daughter (and the dog, of course) hovered close by, just waiting for the green light to dig in.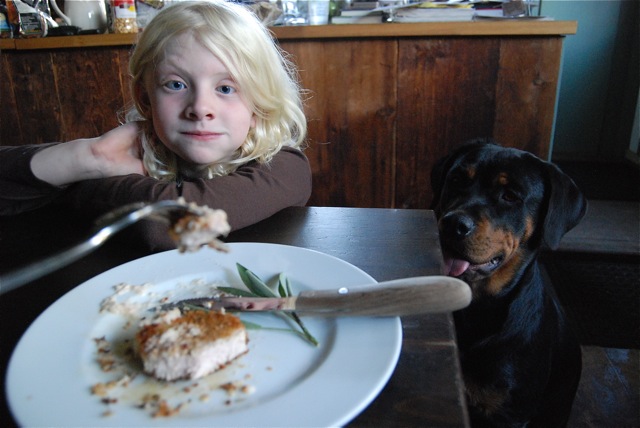 Note the already full mouth of my child, begging for more. Needless to say, there weren't any leftovers.
Adapted from Food Network Kitchens Favorite Recipes.
Yields 4 servings.
SODIUM CONTENT: 184 mg per serving
INGREDIENTS:
Sauce:
1 c. unsweetened natural applesauce
1/4 c. sour cream
3 T. prepared horseradish, excess vinegar squeezed out
Pork:
2 eggs
1 c. panko (Japanese coarse bread crumbs)
1 t. rubbed dried sage
1/2 t. dried thyme
freshly ground black pepper to taste
4- 1/2-inch-thick boneless pork loin medallions (about 1 lb.)
2 T. vegetable oil
1 T. unsalted butter
DIRECTIONS:
First prepare the sauce. Measure the applesauce, sour cream and horseradish into a small mixing bowl and stir well to combine. Set aside.
Beat the eggs in a shallow bowl.
Measure the panko into a second shallow bowl, add the rubbed sage and dried thyme, and mix to combine.
Lightly season the pork loin medallions with freshly ground black pepper to taste.
Dip each loin in the egg, then (using your other hand to keep bread crumbs from coating you too) gently press into the panko mixture, coating thoroughly.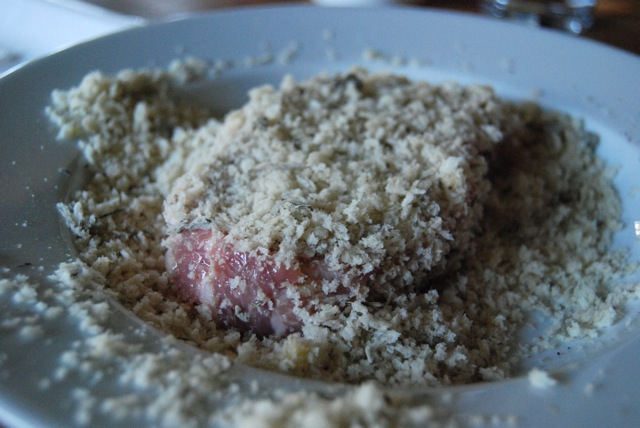 Measure the oil and butter into a large skillet over medium heat. Once the butter has melted and stopped foaming, add the medallions to the pan. Cook until golden and crispy on the bottom, about 4 minutes, then flip and repeat on second side, about 3 minutes more. Be careful not to overcook the pork; it turns tough as boots fast.
Remove pork from pan and serve immediately, garnished with a generous amount of sauce.