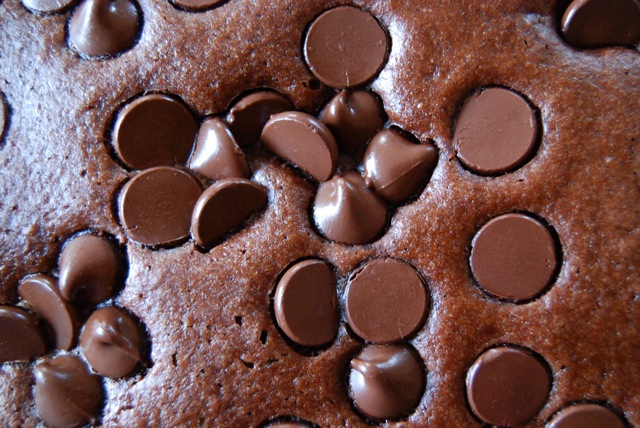 Healthy cake?
I'd be lying if I said I started out with that in mind. I don't typically gravitate towards healthy desserts, unless I'm truly desperate. But sometimes in baking, as in life, things magically fall into place.
A couple weeks ago, a friend posted a recipe on Facebook. She wrote, "this looks yummy and so easy." I clicked it and took a look. Hmmm. A chocolate chip snack cake I could bake in less than an hour AND IN THE PAN (meaning no cleanup). Oh yeah; I'm in.
I adapted the recipe to meet my sodium restriction, eliminating the salt and adding twice as much sodium-free baking soda as the "regular" kind. I followed the recipe exactly, except that I used white whole wheat flour instead of all-purpose.
If you've never used white whole wheat flour before, go buy a bag!  Unlike hard red wheat flour – the kind used in most whole wheat bread, white whole wheat flour is super mild in flavor. So mild, in fact, you can hardly tell the difference between it and regular all-purpose flour. It has all the health benefits of whole wheat (nutritionally it's the same as red wheat), but with a lighter texture and taste!
I've been sneaking it into everything and my kids haven't caught on. I was a tiny bit worried the cake might be too heavy, or the flavor would be off, but it smelled incredible and when I tasted it I knew.
The cake was good. Really good – and so honking easy it was unbelievable. We ate the whole cake that night. And because it was so easy, I made a second one the next day. Then, a third. I should probably be embarrassed telling the world what a pig I am, but as the cake tally grew, I started thinking about how to further improve the cake nutritionally. Sure, it was packed with heart-healthy whole grain. It was super low in sodium AND vegan. But could I make it low-fat, too?
I substituted applesauce for oil.  The batter now needed to be mixed in a bowl instead of conveniently in the pan.  BUT I now had a cake every bit as tasty as the original, with a fraction of the fat.  And my family and I all like the low-fat version even BETTER than the original!  I'm not joking!  The applesauce renders the cake even moister than before.
So there you have it.  Cake that's truly good for you. Whole-grain healthy. Low-fat, low-sodium and vegan too. Moist, dense, chocolate-laden pleasure with absolutely ZERO guilt.
Adapted from Simply Klassic Home.
Serves 16.
SODIUM CONTENT: 1 mg per serving
INGREDIENTS
1 2/3 c. white whole wheat flour (I like King Arthur brand)
1 c. brown sugar or granulated sugar (both work well; your choice)
1/4 c. unsweetened cocoa
2 t. Ener-G sodium-free baking soda (available online at healthyheartmarket.com)
1 c. water
1/2 c. unsweetened applesauce
1 t. pure vanilla extract
1/2 c. chocolate chips
DIRECTIONS
Preheat oven to 350 degrees. Get out an 8-inch square baking pan and spray lightly with oil. (NOTE: I used a glass (Pyrex) pan and it worked perfectly.) Set aside.
Measure the dry ingredients into a mixing bowl and whisk together.
Add the wet ingredients to the pan and mix until combined. Pour batter into the prepared pan.
Sprinkle the chocolate chips evenly over the batter.
Place pan on middle rack in oven and bake 40 minutes. Remove from oven and place on wire rack to cool. Cool briefly before slicing and serving.