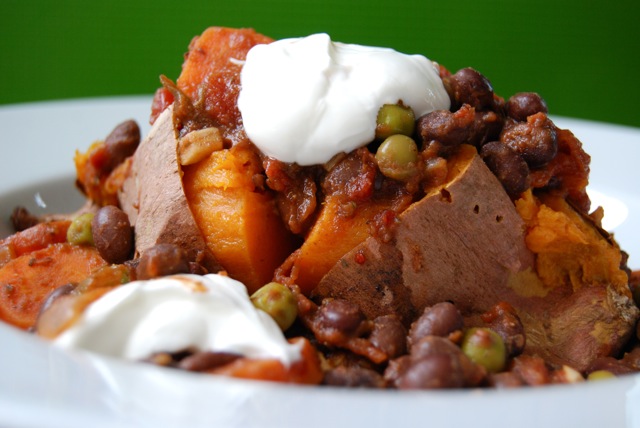 Meatless Monday is here again! WOOHOO!
I've spent the past week scouring all of my cookbooks for another dish to wow you with. Something simple but stupendous. I found today's recipe tucked in an old, out-of-print cookbook by Prevention. Although it had no photo, it didn't matter. The ingredients spoke to me. They said, Make me, Christy. Together, we will be DELICIOUS. I swear, sometimes I feel like a low-sodium recipe whisperer.
When I say today's meatless meal is amazing, I mean it. It isn't just low-sodium and vegetarian – but sans sour cream, it's even vegan! And the level of flavor with absolutely no salt?? Incredible.
Scrub some sweet potatoes and pop them into the oven. While they bake, whip together a simple black bean chili. If you don't have all the ingredients below, improvise. Add corn instead of peas, substitute kidney or pinto beans for black, plain yogurt for the sour cream, and so on. It's a meal that's adaptable, not to mention cheap and tasty. Oh! and super healthy too. Because that's the point of Meatless Mondays, right? (It can be hard to remember when dinner tastes SO GOOD!)
NOTE: If pressed for time, you can skip oven-baking the sweet potatoes and just microwave them instead. The texture will differ, but they'll still be super tasty.
Adapted from Prevention's Low-Fat, Low-Cost Freezer Cookbook.
Serves 4.
SODIUM CONTENT: 135 mg per serving
INGREDIENTS
4 large sweet potatoes
1/4 c. apple juice
1 t. olive oil
1/2 c. chopped onion
2 cloves garlic, minced
1/2 c. sliced carrots
1/4 c. no-salt-added salsa
2- 15-oz. cans no-salt-added black beans, drained and rinsed
1- 14-oz. can no-salt-added diced tomatoes (with juice)
1/2 c. frozen peas
1 T. no-salt-added chili seasoning
1 t. ground cumin
freshly ground black pepper to taste
1/2 c. sour cream
DIRECTIONS
Preheat oven to 400 degrees.
Scrub the sweet potatoes and pierce all over with the tines of a fork. Put sweet potatoes on a baking sheet, place on middle rack in oven and bake 1 hour or until very tender.
In a large skillet or saute pan, combine the apple juice and oil. Bring to a boil over medium heat. Add the onion & garlic and cook, stirring, 3 minutes. Add the carrots & salsa and saute until softened, about 5 minutes.
Add the beans, tomatoes with juice, peas and seasonings. Reduce heat to low, cover and cook, stirring frequently, 20 minutes.
Remove baked sweet potatoes from the oven. Carefully split each open and mash the pulp slightly. Spoon a quarter of the chili over each sweet potato and top with a dollop of sour cream.
Serve immediately.