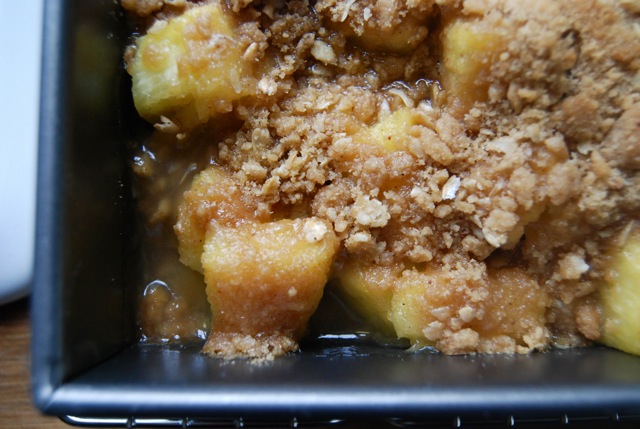 Pineapple must be the latest craze in crisp because I've seen two versions in just 2 weeks.
I spied the first, a combination of apple and pineapple, on Straight Up Food, an amazing site run by a new friend, Cathy Fisher. If you're interested in seriously healthy eating, Cathy is your woman!
The second, slightly more decadent version is featured in the current issue of Fine Cooking magazine. It's the one I opted for today, mostly because I had a large & too-quickly ripening pineapple on the counter and wanted to use it ALL. Add tomorrow's forecast into the equation (we're supposed to get half a foot of snow) and the zing of fresh lime juice and spicy bite of ginger were calling to me.
Because this crisp looks and smells so good, you're gonna want to dive in as soon as it's pulled from the oven. LET IT SIT. Wait 15 minutes and all that scrumptious juice with gel and turn into a glaze-y dream. The resulting dessert is a warm, tender mouthful of golden sweetness, tinged with the flavors of citrus & ginger and punctuated by the yummy oat crisp.
If you don't have fresh lime juice or ginger – shame on you!  KIDDING.. substitute an equal amount of bottled lime juice and roughly 1/8 – 1/4 teaspoon of ground ginger, though the taste won't be the same. The original recipe calls for dark brown sugar and all-purpose flour. I used light brown sugar and white whole wheat flour (my favorite) and it was the BOMB!
HUGE THANKS to my friends at Quaker Oats for sponsoring today's post!!  I'll be featuring Quaker oats, as well as some super low-sodium Quaker products in the next week or two, so stay tuned!
Serves 8.
SODIUM CONTENT:  7 mg per serving
INGREDIENTS
Topping:
1/2 c. packed brown sugar
1/2 c. flour
1/4 c. old-fashioned rolled oats (not quick-cooking or instant)
dash grated nutmeg
dash 5-spice powder (optional, but use it if you've got it!)
1/4 c. (4 T.) unsalted butter, cut into small dice
Filling:
1 large fresh pineapple, peeled, cored, and cut into 1-inch pieces
1 T. fresh lime juice
1 T. finely grated fresh ginger
1 T. cornstarch
DIRECTIONS
Preheat oven to 375 degrees.  Get out an 8- or 9-inch square baking pan and set aside.
To make the topping, measure the brown sugar, flour, oats, nutmeg and 5-spice powder into a mixing bowl.  Add the diced butter and process with your fingers, rubbing and squeezing until the mixture resembles crumbly, wet sand.   It should hold together when squeezed.
To assemble the filling, place the diced pineapple into a large mixing bowl. Add the fresh lime juice and grated ginger and stir well.  Add the cornstarch and toss well to coat.
Spoon the pineapple into the baking pan.
Sprinkle the crumb mixture evenly over top.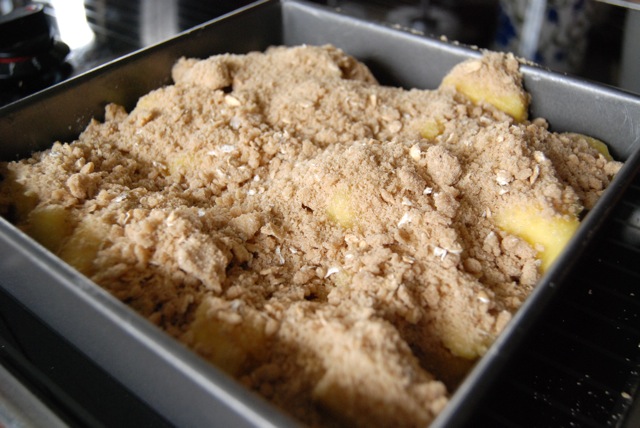 Cover pan with aluminum foil.
Place pan on middle rack in oven and bake for 20 minutes.  Remove the foil and continue baking 15 minutes more.  Remove from oven and LET COOL 15 minutes – then dig in!