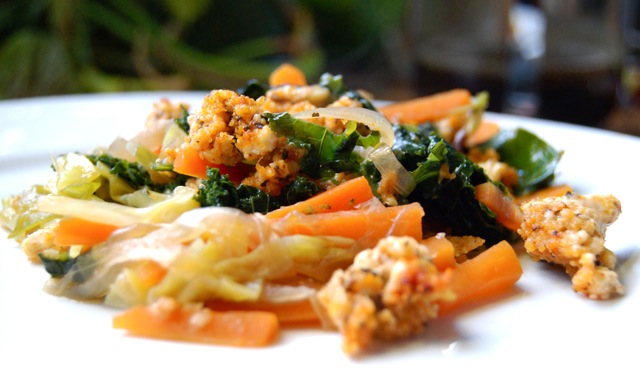 I am BACK! My daughters were on winter break all last week, and between rounds of Just Dance 3 and hikes through the woods, I didn't write a single post. But that doesn't mean my food-centric mind wasn't conjuring up mouthfuls, because it was! I've got some great recipes to share, a few low-sodium finds and the biggest news I've had in a while. I'm an aunt! My adorable niece Hannah was born on Thursday evening, making last week truly memorable. Huge congrats to my sister and brother-in-law on the birth of their first child! Now onto the Meatless Monday show!
If you think today's dish sounds like crazy hippie food, you're right. It totally does. When I first told my daughters what we were having for dinner, their jaws dropped and they looked at me like I'd lost my mind. But I dare you to try this and tell me it's not the tastiest honking hippie food you've ever had. The recipe is adapted from Gourmet magazine; one of the least "flower power" publications around. And it makes use of some of the healthiest (not to mention cheapest) veggies. Carrots, onions, cabbage and kale – all supremely healthy and inexpensive. Add a topping of crumbled extra-firm tofu, bread crumbs and cheese and you've got an irresistible casserole even skeptics will love.
This recipe is easily adapted for a vegan audience by substituting chopped walnuts (or similar) for the cheese. For the breadcrumbs, you can use fresh or dried bread. I highly recommend Whole Foods 365 Everyday Value Whole Wheat Bread Crumbs, which aren't just low in sodium, they're completely SODIUM FREE! If you don't live near a Whole Foods market, use the lowest-sodium crumbs you can find, panko, or salt-free or low-so bread. For the soy sauce I recommend either House of Tsang Less Sodium Soy Sauce (320 mg sodium per tablespoon) or Angostura Lite Soy Sauce (330 mg).  Both are sold in supermarkets and available online from Healthy Heart Market.  You can also use Bragg Liquid Aminos, which is higher in sodium than the other two products, but a very tasty soy sauce substitute.
Serves 8.
SODIUM CONTENT:  167 mg per serving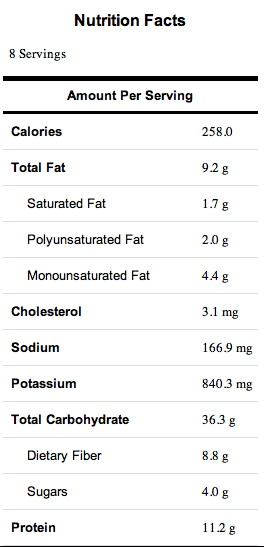 INGREDIENTS
Vegetable filling:
1 T. olive oil
2 medium onions, halved lengthwise and thinly sliced lengthwise
1 lb. cabbage, cored and cut crosswise into 1/3-inch-thick slices (4 cups)
1 lb. kale, stems and center ribs removed and leaves coarsely chopped (12 cups)
1/2 lb. carrots, cut into 1/4-inch-thick matchsticks
1/2 c. water
2 T. lowest-possible-sodium soy sauce (see note above)
Topping:
1 1/2 c. low-sodium bread crumbs, dry or fresh, preferably whole wheat
7 oz. extra-firm tofu
1/4 c. finely grated Swiss cheese (or chopped nuts)
2 T. olive oil
2 t. dried basil, crumbled
1 1/2 t. dried oregano, crumbled
1 t. paprika
1 garlic clove, chopped
DIRECTIONS
Preheat oven to 350 degrees. Get out a 9 x 13-inch glass baking dish and set aside.
Heat oil in a large skillet or saute pan over medium. Add onion and cook, stirring, until softened, 3-4 minutes. Add cabbage, kale, carrots, water and soy sauce. (Skillet will be very full, volume will reduce as veggies cook.) Cover the pan and cook, stirring occasionally, until vegetables are just tender, 10 to 15 minutes. Transfer contents to the glass baking dish and set aside.
To make the topping, measure all of the topping ingredients into a food processor and pulse to combine. (Alternatively, mash ingredients together in a large bowl with a potato masher.) Sprinkle tofu mixture over vegetables in baking dish. Place dish on middle rack in oven and bake, uncovered, until topping is golden brown and vegetables are heated through, 15- 20 minutes. Remove from oven and serve immediately. (We really enjoyed this over steamed brown rice – for the full "hippie" experience. LOL)