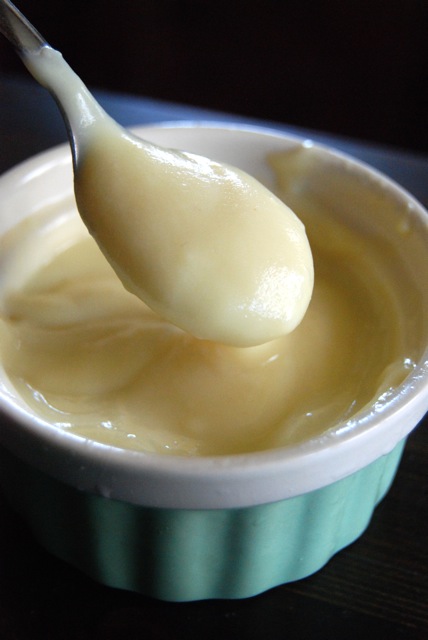 Pudding Pudding Pudding. What a wonderful word! It rolls off the tongue just like the substance itself.  I've had a lifelong love of pudding that began as a child. Back in the early 80s, my mom would often send me to school with a packed lunch containing (if I was lucky) some Del Monte canned pudding. Don't scoff!  That canned pudding was DIVINE. Who knows what crazy artificial preservatives and flavorings it contained, all I know is it was ADDICTIVE. I used to inhale those little tab top pudding cans, longing for more. I still dream about them to this day.. (can you tell?) and last night those pudding memories came flooding back.. calling to me like sweet sirens.  I was in dire need of some pudding.  After flipping through all the cookbooks in the kitchen, I settled on this 'family favorite' recipe from Southern Living.  All it required was stirring and easy ingredients, all of which I had on hand.  Apart from my arm tiring slightly (and who doesn't need a pre-pudding workout?) this recipe was a snap!  And the pudding itself??  Oooohhhh.  Sweet, with an eggy richness my older daughter describes as "ice cream-esque."  If you like the taste of French Vanilla, you will LOVE this dessert.
Yields 8 (1/2 c.) servings.
SODIUM CONTENT: 53 mg per serving
INGREDIENTS:
1/2 c. sugar
3 T. cornstarch
4 egg yolks
3 cups low fat milk
2 T. unsalted butter
2 t. pure vanilla extract
DIRECTIONS:
Measure the sugar, cornstarch, egg yolks and milk into a heavy saucepan. Place over medium heat and bring to a bowl, stirring constantly with a whisk (about 20 minutes). Once boiling, continue whisking for roughly a minute, until thickened. Remove pan from heat and whisk in the butter and vanilla until melted. Pour into cups, placing plastic wrap over the surface to keep skin from forming. Refrigerate several hours, until cold.