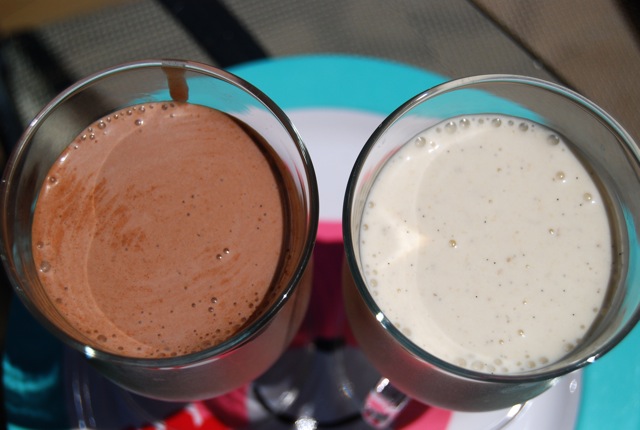 My friend Ashley recently asked me how to put on some weight. I know this isn't most people's concern, how to GAIN weight, but when you suffer from Meniere's Disease often it is. Whether from the no-salt diet, or simply from being too sick to keep food down, many people with Meniere's are SKINNY. Anyway, my response to Ash was to recommend a daily milkshake. Not only are milkshakes super low in sodium, but they're high in fat and calories and absolutely DELICIOUS. I'm dedicating today's recipe not just to Ashley, but to us all. Because whether or not you need to put on weight, each and every one of us NEEDS a milkshake – at least once in a while. These could not be simpler. Just 2 or 3 ingredients, one of which is fruit so that almost negates the ice cream. No milk necessary. And if you're a strict vegan, you can even substitute non-dairy ice cream and freeze the banana for extra umph. I love both incarnations (though truth be told, I like the chocolate best.)
Yields 1 serving.
SODIUM CONTENT: 112 mg per serving
INGREDIENTS:
1 ripe banana
1 c. vanilla ice cream
1 T. cocoa (optional)
DIRECTIONS:
Place ingredients in a blender or food processor and pulse until smooth. Pour into a glass and serve immediately. ENJOY!