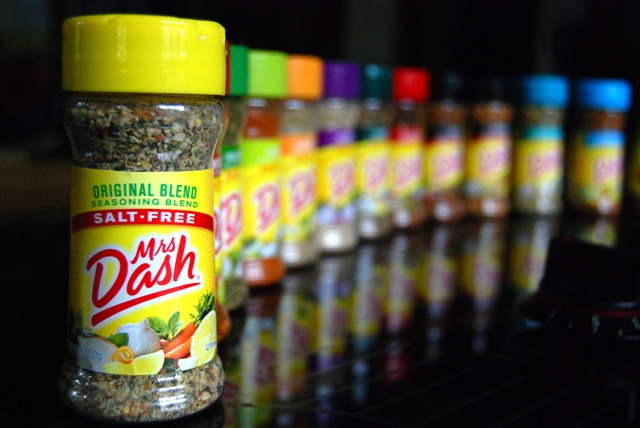 When Mom Central Consulting approached me a couple weeks ago asking whether I'd be interested in doing a promotional review of Mrs. Dash, I agreed without hesitation.  Not simply because they'd offered the entire line of seasonings as compensation – NO!  That was just the sprinkling on top.  As someone on a salt-restricted diet, I've used Mrs. Dash for years.  But truth be told, I began buying the blends well before being diagnosed with Meniere's.  And I'm not alone.  If you live in the US or Canada, I'd hazard a guess you've used Mrs. Dash at some point.  I'd even go so far as to say you likely have one or more bottles in your pantry right now.  Mrs. Dash is, after all, the #1 salt-free seasoning on the market; sold pretty much everywhere – grocery stores, big box retailers and beyond.  But its popularity goes far beyond its ubiquitous availability and health benefit.  Many people swear by the blends on the basis of taste alone – and with 14 different flavors to choose from, who can blame them?
There's a Mrs. Dash salt-free seasoning for every taste.  From the Original Mrs. Dash to the fine-grain Table Blend intended to replace the salt shaker.  The savory Garlic & Herb and its cousin Onion & Herb.  The fresh zing of Fiesta Lime, Lemon Pepper and Caribbean Citrus.  The Tex-Mex sizzle of Southwest Chipotle and Extra Spicy.  The Italian Medley and its versatile partner Tomato Basil Garlic.  The trio of grilling blends for Chicken, Hamburger and Steak.  All 14 Mrs. Dash flavors can be used singly or in combination to bring out the very best in a wide range of foods, from meats & veggies, rice & other grains, to dairy or non-dairy dips, dressings, condiments & much more – WITHOUT SALT!
After being diagnosed with Meniere's in 2004, my approach to cooking changed radically.  And as a wife and mother, my low-sodium diet vastly affected not just me as an individual, but my family as a whole.  My husband responded to my diagnosis as a comrade-in-arms.  If I was going to have to live without salt, HE WOULD TOO! and by default our daughters as well.  But that placed an even greater onus on me to make life palatable for us all.  Enter Mrs. Dash, stage right!  I'd been familiar with the blends before salt was verboten and afterward the seasonings took on an added level of importance.  Mrs. Dash tastes GOOD.  That alone has made the brand a household name.  But its convenience can't be underscored enough either.  On a salt-free diet you're forced to cook most meals at home.  You go through vast quantities of herbs and spices, and even though I love to cook, there are days when I'm too tired or sick to be creative.  Mrs. Dash prepackaged blends make life easy, healthy AND delicious.
Want a fast fiesta?  Saute chicken tenders with a tablespoon of Southwest Chipotle, along with sliced bell pepper and diced red onion.  Spoon into salt-free taco shells or low-sodium tortillas, sprinkle with chopped fresh cilantro and dollop liberally with sour cream.  OLÉ! Need an irresistible side?  Slice potatoes into wedges, toss with olive oil and Tomato Basil Garlic and roast for ~40 minutes at 450 degrees.  Instantly perk up pasta with a dash of Italian Medley.  Supply a salt-free kick to homemade hamburgers or meatballs by sprinkling some Lemon Pepper, Onion & Herb or Hamburger Blend into the mix before shaping.  Better yet, try a little of each!  I've concocted all of these and am continuing to find new and exciting uses for all 14 of the Mrs. Dash blends using their daily recipe suggestions as well.
Tomorrow through Monday (as long as the weather holds) we'll be GRILLING.  And you KNOW I've been looking for picnic recipes to try.  Almost Dirty Rice would be fantastic with charbroiled chicken.  Grilled Catfish with Chipotle Fruit Salsa makes my mouth water just thinking about it.  Even standard fare, like burgers and potato salad are covered.  Ooooh.. I can't wait to try them all!!
Happy Memorial Day, everyone!
This review was written while participating in a campaign by Mom Central Consulting on behalf of Mrs. Dash, and I received a promotional item to thank me for taking the time to participate.