Back in May I wrote my first promotional review of Mrs. Dash Salt Free Seasonings.  As part of the promotional campaign I received a set of 14 Mrs. Dash seasoning blends, and over the past months my family & I have been taste testing them all.  Although I've used Mrs. Dash for years – since well before being diagnosed with Meniere's and eliminating salt from my diet, there were many blends that I hadn't tried before.  Did you know Mrs. Dash even makes salt-free seasoning that tastes great on FRUIT?!  NO?  Then keep reading!  I'm here to give you the DISH on Mrs. Dash!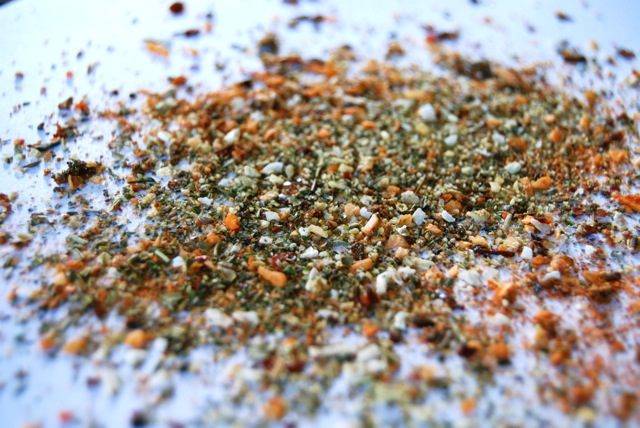 Everyone has their own unique sense of taste.  When it comes to our family, my husband & I tend to gravitate toward bold flavors, things like curry and spice.  Our kids in general prefer milder seasonings.  Like many families we often struggle at mealtime because one (or both) of our daughters won't eat something being served.  I thought this Mrs. Dash taste-trial might prove difficult, trying to accommodate everyone's preferences, but it was actually smooth sailing.  The nice thing about the Mrs. Dash blends is they can be incorporated not only while cooking, but after, so that we're all happy.
Over the past months we've found good uses for all 14 Mrs. Dash salt-free blends, marrying them well with fresh garden produce and fruit, as well as every type of meat and protein imaginable.  Certain types of food just seem to "fit" naturally with certain blends, and you can really alter the taste of something simply by swapping your choice of seasoning. Same ingredients + different Mrs. Dash flavor = NEW MEAL! For those too busy to cook elaborate dinners or who have a wide variety of eaters at the table (like us), Mrs. Dash makes salt-free life easy and appealing. Whether you cook with it or keep it strictly on the table in lieu of salt, Mrs. Dash is a great way to change things up.
But even with 14 blends, I WANT MORE.  As in Рvariety!  If Mrs. Dash expanded its line of salt-free seasonings, it could appeal to an even wider range of audience.  As mentioned above, my husband and I are HUGE fans of Indian food.  How about a couple curry blends: one aromatic, one fiery?  A salt-free Thai blend with lemon grass, galangal and chili?  An East African beber̩ spice mix?  There are a world of possibilities when salt free goes global!
Here are my 5 favorite ways of using Mrs. Dash salt-free seasonings to boost the flavor of my family's low sodium diet.  Hope they add interest and variety to yours as well!
1) Add your favorite Mrs. Dash blend/s to salt free bread crumbs to alter the flavor of any breading or topping without adding any additional sodium. These flavored crumbs can be sprinkled over casseroles, pasta and more for texture, flavor and variety. Our favorites for this purpose? Italian Medley and Tomato Basil Garlic.
2) Use seasonings to make dips or salsas. For instance, add a mixture of Table Blend and Onion and Herb to sour cream for unsalted chip dip. Remember what I said about fruit??  Sprinkle Fiesta Lime or Caribbean Citrus over diced mango or pineapple for a quick & easy salsa. HINT: add a little fresh lime juice, chopped onion, jalapeño and garlic and it's out of this world!
3) Make your own pasta sauce using fresh garden produce and a combination of Italian Medley, Garlic and Herb and Tomato Basil Garlic. Add a sprinkle of seasoning to salt-free commercial sauce to really perk it up, or better yet, keep it on the table when serving so people can season to taste.
4) Create a world of marinades or dressings using oil, a little vinegar or fruit juice and your favorite Mrs. Dash seasoning blend.
5) Last word: VEGGIES. Roasted vegetables – any type, but especially potatoes – come alive with a little oil and seasoning. Who needs salt when you have 14 combinations to try? Mrs. Dash is also delicious sprinkled over steamed veggies or (my favorite) baked potatoes.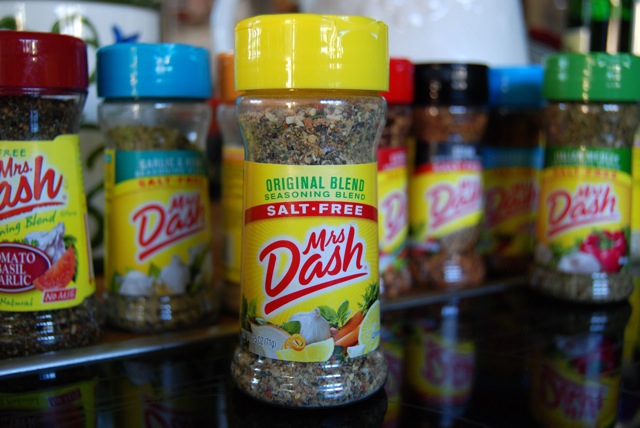 This review was written while participating in a campaign by Mom Central Consulting on behalf of Mrs. Dash and I received a gift to thank me for taking the time to participate.