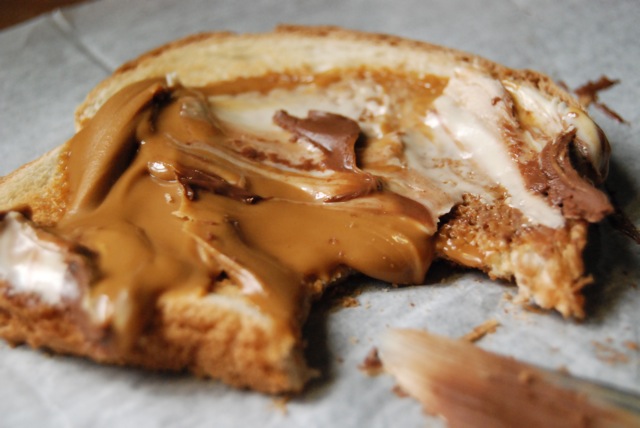 My friend, Natalie, is celebrating her 10th wedding anniversary in Ireland. Along with touring the countryside, sightseeing and sampling pints, Nat and her husband have been investigating local shops, including grocery stores. Now, I don't know about you, but I could spend an entire vacation bouncing from one foreign supermarket to the next. The products, the packaging, the potential LOW SODIUM BONANZA! Unfortunately, Meniere's disease makes travel for me very difficult. Thankfully Nat has been posting her photos online, so it's been a sort of virtual vacation for me too.
Her trip has inspired me to pick up a few European treasures this week. There are local stores – yes, right here in Portland, that can transport my taste buds thousands of miles away (and for a fraction of the cost!) Here are 3 favorite spreads – all of them low sodium and absolutely delicious. (And a great mini-vacation anytime.)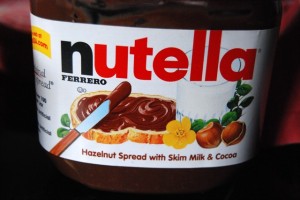 The ORIGINAL Hazelnut Spread – Nutella!  You've likely sampled Nutella at some point, perhaps even while abroad. I first ate Nutella as a child in Europe, and the taste of it brings me right back to that place.  At 11 grams of fat per serving it's not exactly health food, but it is super low in sodium (a mere 15 mg per 2 tablespoons).  And everyone needs an occasional indulgence!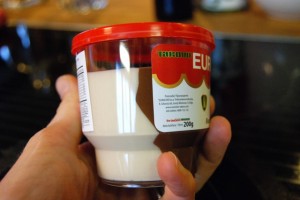 EUROCREM. Think of this spread as Nutella's Serbian sister, with its mixture of half-hazelnut/half-white chocolate goodness. Eurocrem boasts 11 grams of fat per serving, but ZERO mg sodium! Making it an acceptable splurge. Although Nutella is sold readily in many large supermarkets, I've only found Eurocrem at a select number of Eastern European groceries. TWO of which exist here in Portland (go figure?); check local stores for availability.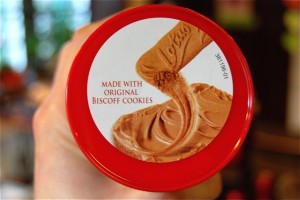 Biscoff Spread has a peanut butter-like appearance and consistency. Made from Belgian Biscoff cookies, it tastes like cinnamon and graham and … something else I just can't put my finger on. It's tasty on toast (as show above, along with Nutella and Eurocrem – oh my.) but I like it best smeared on apple wedges. The combination of sweet juicy fruit and Biscoff is irresistible and seems especially fitting this time of year.  I found Biscoff at my local Hannaford supermarket, stocked alongside the peanut butter and jelly.  (Be sure not to drop your jar in the parking lot like I did.  Thank you, Hannaford, for the freebie.)  It's a bit higher in sodium that Nutella or Eurocrem – 66 mg per 2 tablespoons – but still low enough to make it a mostly guilt-free experience.  Just like a real vacation.